Audience members find themselves cast as B-movie extras and interactive drama hits a new level.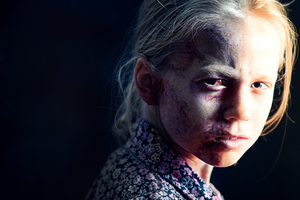 The growing trend towards interactive theatre is thrown into overdrive in a show that invites you to immerse yourself in the always hazardous task of surviving a zombie apocalypse.
All the action takes place behind the barricades of a makeshift containment facility, and the imaginative identification that grips spectators of any engaging narrative is taken to a different level as audience members find themselves cast as extras for a B-grade horror flick.
The encounter begins with an intimidating taste of the quasi-military authority of an internment camp, and sporadic outbursts of violence jolt the audience into an intense emotional engagement with the unfolding adventure.
The production is well-suited for the age group that is accustomed to losing themselves in video gaming but the experience also recalls the way children are able to spontaneously step in and out of role-playing in their own imaginary worlds.
Andrew Foster's superb set has been cobbled together with the disturbingly obsessive energy that drives young kids to construct elaborate forts or playhouses to accommodate their make-believe games.
The script draws on a deep familiarity with conventions of zombie movies and an impressive array of video screens cleverly combines pre-recorded movie style footage with real-time CCTV coverage of the serpentine containment depot.
Writers Simon London and David Van Horn have assembled a well-structured story with clearly defined roles, and the large cast carry off the difficult job of staying in character while improvising interactions with the audience. Fasitua Amosa is particularly effective as the no-nonsense head of security.
Though the pace lags a bit on occasion, the show builds to a thrilling climax with a memorable house-of-horrors experience that is not for the faint-hearted.
Review
What: Apocalypse Z
Where: Aotea Square until April 27