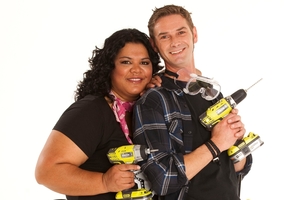 The couple who fell pregnant while filming the hit renovation show The Block have had their baby - and it's understood to be a girl.
Wellington couple Tyson "Spicey Tysie" Hill and fiance Rachel Rasch had the baby a week ago.
As the NZ Breakers played the Wildcats in Perth early yesterday morning, Hill tweeted: "Baby on lap, remote in hand, go Breakers." Earlier, the proud dad announced the baby's arrival: "My girl Rach is the most courageous beautiful woman in the world, so proud and so in love with my family right now words are not enough," and then later that day, "Staring at my baby now can't take my eyes off and tears of joy shared with Rach all day."
But the couple, who are understood to have signed a magazine deal, were careful to keep other details to themselves.
In an earlier interview the couple said their 6-year-old son Otis was hoping for a brother but the couple thought he would get a sister instead. They said they would call her Emi-Sue, after both of their mothers.
Fellow contestants Ginny Death and Rhys Wineera remained good friends with the couple, and earlier in the month Death sent a message to Rasch through Facebook.
"Hey Rach wishing you all the best for the birth of your baby girl, we will come down in a few weeks once you have pushed that baby out and things have settled down."
But fans might have to wait for the glossy spread to get all the details of the newest baby on the block. Rasch said Hill was superstitious about announcing the name and the gender before the baby's baptism at eight weeks.