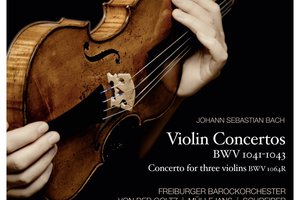 The musicians of Freiburg Baroque Orchestra are without peer when it comes to giving the 18th century its historical dues. From the outset, a quarter-century ago, their aim was "to enliven the world of Baroque music with new sounds". This they have certainly done, and much more, as witnessed by their recent Haydn and Mozart recordings under Rene Jacobs.
Their new Bach CD finds them on home ground and is launched by one of the composer's most celebrated works, the D minor Concerto for Two Violins.
The Largo ma non tanto (slow, but not too much) is the touchstone here. For some tastes, this second movement may be a little too highly deliberated, eschewing the billow and airiness of classic performances by Arthur Grumiaux, Isaac Stern and the like.
The Freiburgers' approach, however, does result in scrumptiously crisp articulation. Soloists Petra Mullejans and Gottfried von der Goltz make every frisson of dissonance felt, and Torsten Johann's harpsichord has the space to rove and roam with style.
The two violinists, both members of the orchestra, divide the solo concertos between them. Von der Goltz is forthright and propulsive in the bright-hued E major work; Mullejans finds more subdued beauties in the D minor, where spun-out notes are allowed to sigh and bloom. In the Finale, one of Bach's most irresistible jigs, the vivacious Mullejans manages an almost reel-like fervour. The D major Concerto for three violins brings Anne Katharina Schreiber into the soloists' line-up.
Reconstructing this score, with ample musicological justification, from a Concerto for Three Harpsichords, has been a most successful venture.
Bach's dense textures seem to hold even more mysteries when given over to strings alone; with the homogenous timbre, the listener's perspective is constantly tested and teased, being drawn from one line to another. Theoretically, every hearing could be a new experience, as the musical strands are rejuggled - all of which is very much in keeping with the Baroque spirit.
Recorded in Freiburg's premier hall, the Paulussaal, the musicians have been caught with remarkable presence. The only minor irritation is the occasional wisp of extraneous sound at the beginning of some movements.


Classic CD
Bach: Violin Concertos (Harmonia Mundi, through Ode Records)
Verdict: Freiburg's illustrious Back-to-Baroque band explores the magic and mystery of Bach.
Rating: 5/5