Puccini's tragic opera Madame Butterfly never ceases to stir the emotions, director Kate Cherry tells William Dart.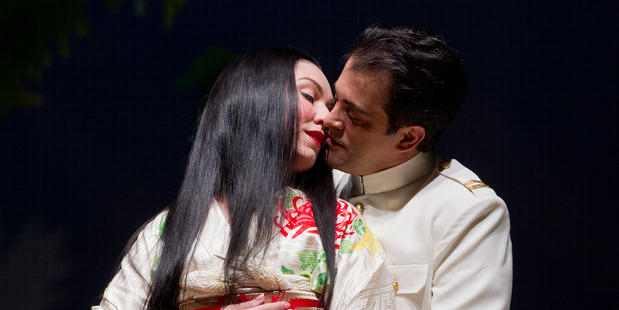 Kate Cherry, in the final stages of rehearsal for NBR New Zealand Opera's Madame Butterfly, is one happy director. "Who wouldn't feel happy creating a new production of Madame Butterfly? the Australian asks. "It's a wonderful thing to be employed to do.
Artistic director of Melbourne's Black Swan State Theatre Company, Cherry has fitted a handful of operatic ventures into a CV that runs impressively from Shakespeare and Chekhov to Arthur Miller and Tennessee Williams.
The operas include a 2004 production of Hans Krasa's Terezin opera Brundibar for Melbourne's Oz Opera along with a 2008 The Coronation of Poppea for Victorian Opera, a production that had one critic commenting how Monteverdi's heroine could be seen as a soul sister of Paris Hilton.
Theatre is in Cherry's blood, she says, being one of three generations of scenic designers and directors. Moving to America at the age of 14, she was fortunate to "take a three-year degree in theatre directing, which simply wasn't available in Australia in the mid-80s.
Having been raised on Berliner Ensemble and Kurt Weill by her leftist father, she admits to being "slightly resistant when her UCLA tutors encouraged her to take in as much opera as she could.
"I thought it was an art form for the wealthy, she admits. "I wanted to do work that I felt was more accessible. I'm in my 40s now. I recognise how opera can be accessible for all people and the story-telling can be taken just as seriously as the music.
There were other advantages studying in UCLA's "really militant little theatre department.
"Los Angeles had just had the Olympics and the Olympics Arts Festival brought inspiration from all parts of the world.
Even more inspiration came from the teaching staff, who included director Peter Sellars, already scandalising the opera world with outrageous European productions of Mozart and Handel. Within just a few years, he would direct the premiere of John Adams' Nixon in China for Houston Grand Opera.
Cherry has always been fascinated by the role of music in opera.
"Music can take people to extraordinary emotional places", she points out. "It reaches out to you and touches you."
In the case of Madame Butterfly, the appeal of the work and of Puccini's music can be deceptive. "On one level, it's so easy just to listen and watch the first time you experience it," Cherry comments.
"On another level, when you know the work, you experience more and are able to engage with it on different levels."
As for Puccini's music, "it stirs the heart", she enthuses. "Puccini takes us through a range of emotions, which makes one realise why Madame Butterfly is so loved by audiences. Yet through this music, he can also touch on big issues such as suicide, child custody and oppression."
She sees the core of the opera as lying in the relationship between Pinkerton and the young Butterfly. Pinkerton is not so much heartless as careless.
"He did love Butterfly, but she wasn't ever the centre of his world," she explains. "What was a night of transcendence to her was just a passing moment to him. It's a very contemporary thing - we can so easily cause more damage with carelessness than with maliciousness."
Cherry sees wider political implications lying behind the actions of Puccini's anti-hero.
"Pinkerton, with his carelessness, is emblematic of all imperialist cultures, not recognising the subtleties of the culture they're intruding upon. He comes in and doesn't see what is right in front of him."
She reminds me that this production will be using the 1907 version of the opera, in which the American eventually shows some remorse for his behaviour.
Cherry has looked very much to the production's conductor, Tobias Ringborg, for inspiration to colour her vision of this culture clash.
"Tobias has restored the tempos that Puccini purists will want to hear. This Butterfly is faster than most of the versions I've listened to and I had to get inside the tempo and understand what he was telling me.
"Inevitably this had me readjusting my thinking and my staging, which has been exciting," she says. "The young Butterfly is so quick-minded and obsessive to start with but, by the second and third acts, she's quite manic. She almost unravels in the second act and I love how, after all the care Puccini has taken with the Japanese details earlier on, the character becomes totally Italian.
"This is the story of a young girl of 15, who is capable of extreme emotions, from love to rage," she adds. "It's wonderful to see a female character so fully formed and so fascinating. It may not always be beautiful but it is utterly compelling."
Cherry has the utmost praise for a cast headed by Australian soprano Antoinette Halloran and Italian tenor Piero Pretti as the ill-fated lovers.
"Like most opera singers, they are very disciplined and are willing to take big risks," she says.
Not only is Halloran "great fun to have in a rehearsal room," but the Australian soprano fully understands the richness of Butterfly's character. "Antoinette can bring out the mania in those later acts when she realises she has nothing; yet, at first, she is so sexy in those early scenes with Pinkerton. She's also clearly a mother in the second and third acts and understands Butterfly's incredible loss."


Performance
What: Madame Butterfly
Where and when: Aotea Centre, April 18, 20, 24, 26 all at 7.30pm; April 28 at 2.30pm