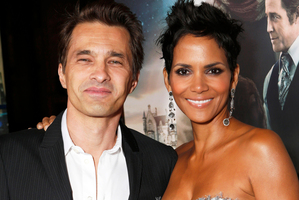 Halle Berry says she and her loved ones are touched by her miraculous pregnancy.
The 46-year-old actress confirmed on Monday she is expecting her second child by her French actor fiance Olivier Martinez.
Berry is already mother to five-year-old daughter Nahla with Canadian model Gabriel Aubry.
The star and Martinez, 47, feel graced to be expecting at this stage in their lives.
"He's thrilled, surprised like I am... I think when a man knows he's having a child I think they are as happy as women are," Berry tells ET Online.
"It's a miraculous thing if you think about it, at our age it's an even more miraculous thing, so we're happy."
It appears that providence has been aligning for quite some time.
Berry's daughter Nahla has actively been putting in requests to the divine to become a sibling.
"She has been praying for a baby sister - who knows what she's going to get - but she's been praying for a baby sister," Berry says.
"So a baby of any sort will just make her through the roof, she really wants to be a big sister."
Berry is thought to be around three months into her pregnancy at this time.
She will not allow parenthood to prevent her from having a full professional life.
"My dream now is much more realistic, especially as I sit here with another baby in my belly. I want to be a mother and have my career at the same time, and I've been told my whole life, well you can't have it all at once," she says.
"The dream for me now is to have a career that I'm proud of, that I feel good about and still have time for my children and be a mum too."
- AAP