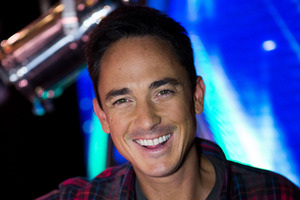 He says he's "too busy to look for love", but The X Factor's Dominic Bowden, who split from wife Claire Robbie last year, admits it's difficult being vulnerable when it comes to his private life.
"I'm not quite there yet, to talk about the breakdown of my marriage."
For the man who appears perpetually "on" and brimming with effusive energy, Bowden is restrained about things he deems private.
"The truth is, I haven't had time to go dating," he tells The Diary.
His life possessions are stored in boxes in an LA storage locker. But his life, for the meantime, is in New Zealand.
Bowden will host The X Factor NZ, the multi-million-dollar production that hits our screens on April 21.
He will present the show, in the manner of Ryan Seacrest, though with arguably less perma-tan.
Bowden is the ringmaster, working to keep the high-maintenance judges ("Daniel is craaaazy," he says), the contestants and the production crew one big happy family.
This week he is overseas, at a location he won't disclose. "We're filming at the judges' retreats, but I can't tell you where."
But he opens up about his fellow co-stars: "Stan Walker is flawless; the camera loves him. And Ruby Frost may appear the junior but she has really strong opinions. Mel, well, Mel Blatt is wild! And Daniel Bedingfield is certifiable! Seriously, his brain and mouth do not work in conjunction. He's totally unpredictable."
Bowden admires Bedingfield's approach. He knows being fearless makes for great TV. He says he's learning to give more of himself and "less the 2D cut-out". He looks to X Factor boss Simon Cowell for lessons.
"Simon is the ultimate puppet-master. He can whip up controversy out of a hat".
Hawkesby busts mayor at gig
Auckland Mayor Len Brown's plan for more high-rise apartments and infill housing is a bitter pill for a lot of people to swallow. However, it was made worse this week when the Mayor was busted enjoying a concert while a meeting was held over the very subject.
On Monday, when 400 residents of the Eastern Bays were packed into a St Heliers hall giving Deputy Mayor Penny Hulse heaps about Auckland Council's draft Unitary Plan, the Mayor was at Vector Arena enjoying the sweet lulls of Paul Simon.
Kate Hawkesby, who was sitting nearby and recording her observations on Twitter, said the Mayor was "rocking it out".
"Downtown Brown has just sat down in our row," she tweeted. "So Paul Simon and the Mayor in one night ... If Len Brown starts rapping I'm outta here".
Turns out, Mrs Mike Hosking wasn't the only one taking special interest in the Mayor's whereabouts.
A rep for the Mayor did not return calls. But a diary note shows Mr Brown had scheduled Simon's pop concert.
Today, the Mayor's official diary reveals he is off doing hot laps in a V8 Supercar at Pukekohe, before going to a Peter Pan performance, and then back at the V8s for the weekend. Something tells me Len Brown is feeling pretty relaxed six months out from the local body elections.
Rose in Young Hollywood
Some of Hollywood's most stylish stars were swapping air kisses and quaffing bubbly on Tuesday, and leading the way in the fashion stakes was Kiwi actress Rose McIver.
Selena Gomez, Julianne Hough, Pixie Geldof, Agyness Deyn, Liberty Ross and Hayley Atwell were the headline stars at the British Fashion Council London Showroom's opening party at a Beverley Hills hotel. But it was McIver who turned heads in a patterned dress by British designer Holly Fulton, who counts Samantha Cameron as her biggest fan.
The Lovely Bones star is fast gaining cred in Young Hollywood circles. The 24-year-old is shooting the primetime TV series Masters of Sex with Beau Bridges and Michael Sheen.
Future of television
John Barnett chose the MIPTV conference in the south of France this week to let the industry know he's sold his minority stake in South Pacific Pictures to majority shareholder All3Media. Barnett is now chairman of the company and new chief executive, Kelly Martin, told The Diary it's been in plan for some time.
"Yes, it was John's plan. All3Media have been here, helping SPP sell shows to international markets. John wanted to ensure longevity for SPP. He wanted to ensure its future."
All3Media is the UK's largest independent production company. They have a stable of hit shows, including Hollyoaks, Midsomer Murders, The Only Way is Essex and Ramsay's Kitchen Nightmares.
They are owned by Permira, a €20 billion ($33 billion) British private equity firm.
In other words, SPP - makers of The Blue Rose, Shortland Street and The Almighty Johnsons - is backed by big, big coffers from international venture capitalists. So, now SPP is fully foreign-owned, will all profits be going offshore? Martin said All3Media "expect a dividend" but "they are very committed to the company here".
However, there's a limit on the number of productions that can be sustained in this market. Production companies like SPP argue there's no way to produce network television series in New Zealand without assisted funding from New Zealand on Air. How can that be sustained?
Martin, who leaves Cannes today for London and meetings with her British bosses, says she's looking at new ideas for SPP. She's innovative, forward-thinking and realistic about a new television future. "The market is changing so much and so fast, with Netflix etc. We are always interested in new opportunities."