Singer-songwriter Maree Sheehan makes a confident return after too many years away, says Graham Reid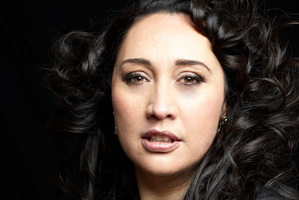 Maree Sheehan returns to concert form after 15 years writing and working on other artists' careers. When Maree Sheehan launched her new album Chasing the Light at Auckland's Tabac in February the room was full of expectation and love. With her small band, Sheehan began hesitantly then hit her stride as the audience sent waves of support, as if to say, "Welcome back. You've been a long time gone, girl."
She had been, 15 years since her last album during which time she deliberately slipped below the radar. She finished her university degree, lived in London for three years, worked behind the scenes on soundtracks and mentored Nesian Mystic.
Too briefly in the mid-90s, Sheehan was one of our more successful artists with singles such as Make You My Own and Fatally Cool, and Kia Tu Mahea in Once Were Warriors.
"I'd been writing a lot in the past few years and to be in the studio and see this album come to fruition was fantastic."
Sheehan's assured album is very much that of a mature artist: That's What I Prayed deals with a close friend dying unexpectedly and the losses felt by her family and friends; In The Light is confident self-assertion when a relationship needs to be dropped.
There are also dancefloor-party songs such as the affirming Without You, the snappy Do I Wish and the reggae step of Rock With Me.
"Yeah, there's darkness and light in life and there's definitely darkness and light in me, hence the album is eclectic."
Sheehan - with her own label distributed by Warners - feels more in control of her emotional and professional life than previously.
"I do have a few regrets, for instance, I went to Australia and they whited-out the cover photo [of her album Drawn in Deep]. Instead of me being predominantly Maori they wanted me to be more Australian looking. Those are the things that can happen when you're not in control. You know, back in the day it was a challenge for young Maori women like Emma Paki, Moana Maniapoto, Hinewehi Mohi, myself. We were challenged about our culture and the te reo, and trying to get any airplay."
And she had all the self-doubt of youth.
"I was very caught up in the business and wondering where I was on the charts, and worrying if I wasn't popular. That got me down. But, being a bit older and more mature, I'm proud of this album. I hope people will like it, but if they don't there's not much I can do about that. I'm going to do the best show I can with my band. And I'm determined to just really enjoy it this time."
Maree Sheehan will perform at The Commercial Hotel, Whakatane, on April 20. See mareesheehan.com for more dates.