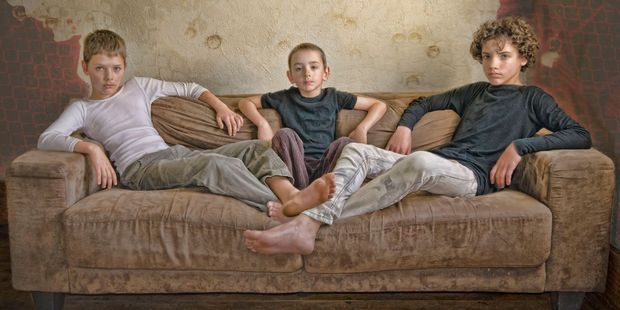 Waihi Beach photographer Cathy Franzoi has been placed third in the 2013 Sony World Photography Awards and will have her image - of her three sons on an old sofa - on digital display at Somerset House in London.
Cathy is a member of the Waihi Photographic Club and Tauranga Photographic Society and has been studying for a Diploma of Digital Photography through distance learning at the Southern Institute of Technology.
The photo started out as a "portrait" assignment.
"I was trying for something with more interest. I wanted the boys to be impassive.
"It was quite hard - as you can imagine - getting three boys to co-operate, not smile - and to get each boy looking the way I wanted," she says.
A visiting judge at the Waihi Camera Club had challenged her about a woman's inability to take good photographs of men.
"I took his feedback and used it," she says with a grin.
The photo first went through the normal critique process at the Tauranga Photographic Society - where members offer constructive criticism and advice on each other's work.
"It can be quite hard to sit and hear that criticism but it can also be good.
"When they put it up the committee member running the critique asked everyone to have a really good look at it.
"At this stage I was very nervous," said Cathy.
The image was given a gold award by her fellow club members and was also used in their entry in the Bledisloe Cup, a New Zealand-wide interclub challenge which the Tauranga Photographic Society won.
She has no plans to become a professional photographer.
The New Zealand National Award, which is part of the prestigious World Photography Awards, looks for the best amateur and enthusiast photographers throughout New Zealand.
Joshua Donnelly was the winner, Peter Graney second and Cathy Franzoi, third.
All three images are to be shown in London from April 26 to May 12.