Sex is everywhere as parents watching Sexy Baby will learn, writes Barney McDonald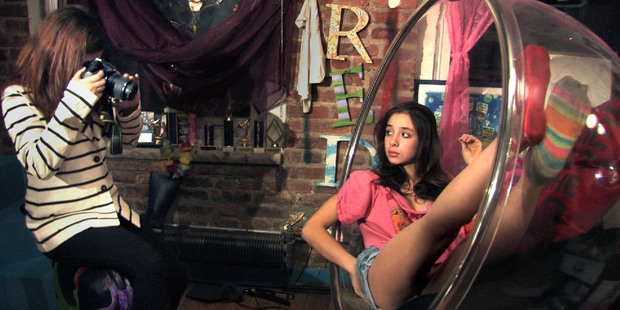 As editor and publisher of Pavement magazine, which folded in 2006 after an eventful 13-year run, I know a thing or two about the controversial nature of sexy imagery of teenagers. The topic inspires passionate debate, and when you're in the firing line of the more negative perspectives it's clear that many responses are personal rather than rational.
With their timely documentary, Sexy Baby, American film-makers Jill Bauer and Ronna Gradus have turned the spotlight on the impact the cyber age is having on teenagers and on older women and the culture at large. A journalist and photographer, the duo are in the firing line, even though they're the good guys, trying to explore and expose a topic of wide-reaching ramifications.
"Even though we didn't want to make a judgment in making the movie, we got criticised for just putting it out there," admits Gradus.
Their critics contend that the film exploits 12-year-old Winnie, a bright spark who considers herself a feminist yet falls into the trap of posing for sexy pictures for a friend then posting them online.
Although the film also features 22-year-old Laura and Nakita, a former porn star in the throes of motherhood, it's Winnie who wins hearts while confounding those who struggle to concede that sexy imagery is everywhere in today's media-saturated society.
"You always consider the source of that criticism," counters Bauer, who studied at Wellington's Victoria University a dozen years ago. "The people who felt we were exploiting the youngest character, it definitely came from a certain demographic, a certain type of audience member; more conservative."
Highlighting subjects and issues that discomfort people is among the most important to address. A lack of discomfort means the issue isn't contentious or has passed into acceptance by society. Sometimes, though, it takes a brave approach to stir the blood, even if Bauer and Gradus are simply reflecting what is in the culture already.
"It is sometimes like shooting the messenger," sighs Bauer. "A lot of people who have seen the film are exposed to information they didn't know. Parents freak out because they don't realise how much access kids have. If they're in denial they'll push away."
With documentaries having to compete with feature films for an audience, many American film-makers test-screen their work to see if it resonates or needs restructuring. It certainly helped Bauer and Gradus fine-tune their film, and prepare for the backlash.
"We had a test-screening that was heavily attended by feminists," says Gradus. "Some of the criticism we got was, 'My God! You're putting all this pornography in front of audiences, which is further damaging these poor women in these videos and further exploiting them for an exciting movie!'."
"Our stance was, 'Well, this is what anybody can go see. We're not showing you some niche thing that you have to search high and low for. You should know about it.'
"Maybe every parent should have a little gander, take a little tour, because mums especially don't have a clue."
The Documentary Edge Festival is at Auckland's Q Theatre until April 21. See documentaryedge.org.nz