Hamish Keith, OBE, is one of New Zealand's most influential art figures, as a writer, commentator and curator. He's also one of Auckland's best bon vivants and is married to internationally acclaimed Oscar-winning costume designer Ngila Dickson.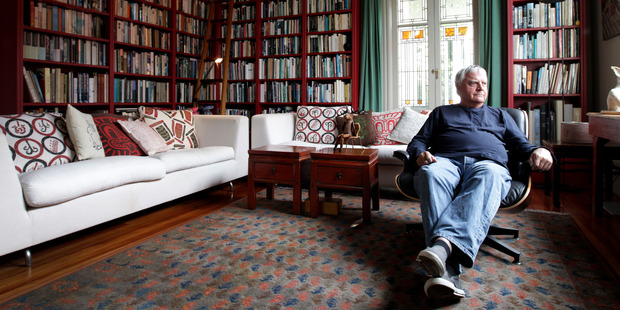 1. You've been an often controversial character during your decades in New Zealand art and culture - but there doesn't seem to have been a row in ages. What's happened?
I haven't had that many fights but I hope I'm still controversial. My battles now though are with committee-based bureaucracies like Creative New Zealand. They have reports not rows. Even when they do have a row, it's so soft it doesn't seem to be a row.
2. Did Ngila Dickson soften your edges?
Not at all. Ngila is a very creative person and works in a very focused way, which is why we get on so well together. We talk on the phone twice a day even when she's half a world away. Today she's in Northern Ireland. Our life is a very happy conversation.
3. What's it like being married to an Oscar winner?
When my chums and I were growing up in Christchurch, the Academy Awards and the Ranfurly Shield were the only awards we knew. So when I sat in the Kodak Theatre in Hollywood watching my wife get up on stage it was like 'wow'.
4. How does Auckland as a city compare to 10 years ago?
It suffers from the same internal blight that it did 10 years ago - a subcutaneous fat of bureaucracy into which great ideas are absorbed and never seen again. That said, it's improved in its energy thanks to its people but we're still not making the most of what we've got.
5. What's the biggest architectural abomination from that decade?
Nelson St.
6. Te Papa is now planning to show - and tour - more of its collection. Does this make you happy?
It doesn't make me happy but it is a solution of sorts. I would rather, however, see Te Papa install our national art collection in large exhibition spaces in different parts of the country. Te Papa north, etc.
7. You've written and produced a lot of TV in your time - how do you feel about TVNZ at present?
TV is a mirror of ourselves but we are in the terrible situation where the public broadcaster is holding up a mirror to the nation which shows no reflection. There is still good TV around - like John Campbell. But we need a good public broadcaster to set the benchmark for everyone else, just like it does in the UK.
8. What did you learn from your childhood?
I was the youngest of three children and my parents taught me a lot about fairness and to despise lying and injustice. My father, Hamish Keith, was a photographer and my mother painted his photographs. Ngila also shares her parent's name which is unusual in itself. But about 15 years ago, I was hanging a photograph on my mother-in-law's wall when I noticed it was a portrait of her, and was signed by Hamish Keith. My father had taken the photo of [Ngila's] mother. Spooky.
9. You're raising money for public paintings of our greats - Hotere on a wall in Kingsland and now Pat Hanly in Mt Eden. Couldn't you just afford to pay for them yourself?
No. Well, it's about more than that. For a long time I had been interested in some of the best street art in Auckland, including that of Askew [Elliot O'Donnell, who is painting the portraits]. Before the 2011 Rugby World Cup I noticed a plague of grey paint was blanking it out, including some of the legal work Elliot had been commissioned for. So I got him painting down at the Silos [Wynyard Quarter], introduced him to [writer] Karl Stead and they got on like a house on fire. I thought, 'a ha, this is a Te Maori moment for street art'. Now he's painting these and it's raising public awareness and getting people involved in recognising our cultural heroes. We'll do Margaret Mahy near the library next.
10. You're seen lunching a lot on Ponsonby Rd - how's the health of Auckland's restaurant scene?
I've been a restaurant critic and involved in restaurants in Sydney so I am a fan of good establishments. And finally, now, Auckland is a great city for food. You'll find me in Ponsonby because it's my neighbourhood.
11. Are you as badly behaved as you have been in your youth?
Well, it's worked so far.
12. How would you like to be remembered?
Fondly.