A zombie finds romance in this post-apocalyptic take on star-crossed lovers, writes Barbara Vancheri.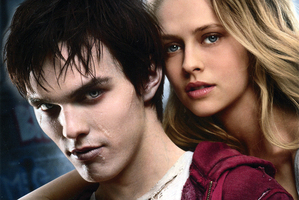 Any interview dealing with movie zombies must include the obligatory and relevant question: Do you feel a kinship with George A. Romero?
"I do feel a great debt to him - and I also feel like we are kind of following in his footsteps in some way," says Jonathan Levine, director-writer of Warm Bodies.
"The wonderful thing about Romero is he established the rules and created this amazing allegory in Night of the Living Dead. And then proceeded to, first of all, vigilantly use the genre as a vehicle for social commentary, which we try to do to some small extent, and also continued to tweak his own rules."
In the Warm Bodies novel, writer Isaac Marion uses an abandoned airport much as Romero did a suburban Pittsburgh shopping mall for Dawn of the Dead.
But this is a story that's almost more Romeo than Romero - Nicholas Hoult is a hero zombie known as R and Teresa Palmer plays Julie, the human he rescues and falls for, to her initial fear, dismay and confusion.
It's a post-apocalyptic take on Shakespeare's classic, Romeo and Juliet.
Palmer had auditioned for Levine's second feature, The Wackness with Ben Kingsley and Josh Peck, and he never forgot her. Once Hoult was hired, she read with him.
"It was their chemistry, really, that inspired me to cast her. Her role is incredibly difficult because she's acting opposite a guy who's basically grunting the whole time.
"There's a lot of responsibility on her to keep the scenes entertaining, and she had such effervescence and a soulful thing going on, that it was really a no-brainer."
Based on her turn as Julie in Warm Bodies and her work in movies such as I Am Number Four and Take Me Home Tonight, she seems primed to break out, the director predicts.
Palmer, 27, made her feature debut in the 2006 film, The Grudge 2 and has since appeared with such name actors as Daniel Radcliffe in December Boys, Adam Sandler in Bedtime Stories and the Nicolas Cage movie The Sorcerer's Apprentice. She says when she read the script for Warm Bodies, it really hit a nerve. "I'm a huge fan of the zombie genre," she says enthusiastically. "So I was very excited to be a part of my very own zombie film. I love it when boundaries are pushed in a genre, and that's what this film is. It's not just the humour, but it's the first time we're seeing a romance in a zombie movie. That's very refreshing.
"Warm Bodies has a great message, and that is that love can breathe life into you," she says. "I'm a huge romantic, but I believe that love has the ability to change and heal, and that idea is so absolutely connected to this film."
Although the zombie genre is tweaked and in this case romantic, given the premise that they are cannibalistic creatures by nature, it wouldn't be a zombie movie without an element of gore. Palmer says, "I'm not very squeamish. I don't love gore but I can handle seeing blood. Having spent a lot of time on my dad's farm, I used to drive a four-wheel bike. I'd build jumps and ramps and fly through the air, much to my parents' dismay, and would roll the bike over a lot. So I'm used to seeing blood. I'm not too much of a girlie girl that way," she says. "That's part of growing up in the Outback."
- TimeOut / AAP