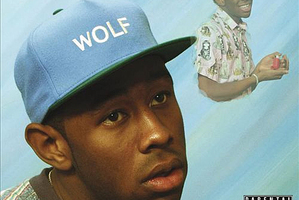 He's an immature skate-punk brat who, along with his rap collective Odd Future, has courted controversy at every turn - including being banned from the last New Zealand Big Day Out. Now Tyler, the Creator wants to grow up and get serious. "I'm bad at keeping my emotions bubbled," he croons woefully on IFHY, a schizophrenic love song and the standout track on his third solo album. He's not wrong there: among its 18 super-dark tracks, Wolf takes on absentee fathers on Answer, crazed fans on Colossus, wayward girlfriends on Party Isn't Over and drug abuse on 48. Yep, Wolf feels like a rap confessional booth at times, especially when Tyler details his first love on the well named Awkward.
Occasionally he throws in well-timed lighter touches, and he's at his best on the Neptunes-indebted Jamba, the horn-drenched thump of Domo 23 and the super sinister Pink Panther stride of Rusty.
It suffers from being too long, has too many guest spots and runs out of ideas towards the end.
But there's enough on Wolf to show that Tyler, the Creator is finally growing up - albeit in his own haphazard way. As he puts it, "I am the cowboy on my own trip".
Stars: 3.5/5
Verdict: Notorious troublemaker starts growing up
- TimeOut