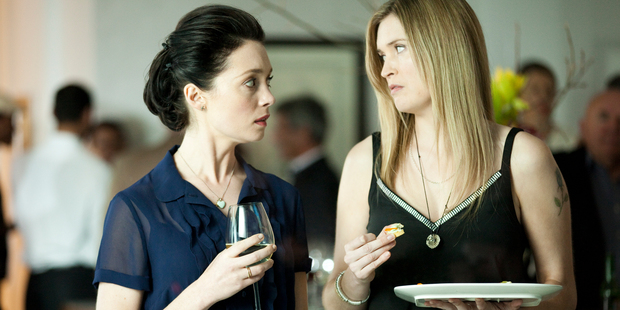 It's usually a good sign when the pitch for a TV show sounds like nothing you've heard before.
A good girl temp, a bolshy friend, an IT geek and an ex-accountant get together to form an amateur sleuthing club in downtown Auckland - primarily to find out who killed Rose, a clever law firm PA who had been doing her bit as a modern-day Robin Hood on the side.
Nope, definitely hadn't heard that one.
Plus there was the pleasing news that the cast was to be led by Antonia Prebble and Siobhan Marshall, two highly watchable actresses, and they would be playing roles written especially for them by the creators of Outrageous Fortune.
Eleven weeks ago it debuted to a solid audience of 264,380 (better than OF's 2005 debut of 260,751) - and with it's noir-ish styling and big name cast, all looked promising.
Then My Kitchen Rules (which pulls about 400,000 viewers a week) started in the same timeslot on TV2, and The Blue Rose ratings took a bit of a slide, so it made sense for TV3 to move it from 8.30pm to 9.30pm.
But unfortunately that didn't seem to help. The show hasn't been featuring highly in any ratings in recent weeks, save the urban Auckland 25-54-year-old demographic, and even then it can't beat The Big Bang Theory (something I find hard to fathom).
So with its good quality ingredients, $6.9 million in funding from NZ On Air, and the support of its broadcaster, why has The Blue Rose not proven to be the hit it might have been?
Well, its Auckland-oriented ratings might be one indication - while it's fun for us inner-city Auckland dwellers to see our day-to-day world reflected on screen, and perhaps some Wellingtonians would see a similarity, the rest of the country clearly felt they didn't have much to relate to. Whether we like it or not, the Jafa prejudice still exists.
Then there's the overall story arc: 13 episodes based around solving one murder was always going to be a stretch. CSI manages to wrap them up in one, and even Jane Campion has opted for just six episodes to unravel the mystery in Top of the Lake.
So there had to be some padding, which comes from the extra cases The Blue Roses take on. And though their efforts to help the little people who've been exploited by less savoury characters are kind of endearing, mostly they're just distracting or even boring.
Stories like the one about the naive woman being manipulated to give her money to an online predator seem a little outdated, really.
Then there's the problematic attempt to blend both drama and comedy into one show. There are lines played for laughs (poor Ganesh gets far too many sketch show moments, and Krystle comes across as a bizarre comedy scapegoat) that jar against the serious nature of a murder case, and lessen the dramatic weight of the relationships between characters. Their friend is dead, and they're breaking various laws, pitting themselves against a killer. So the comedy ends up feeling forced, uneven and takes away from the strong emotional performances the cast are capable of.
Of course, as the series has zoomed in to focus on the key storyline of murder and corruption, and The Blue Roses have become more competent in their sleuthing, it's become more gripping, more "must-see" television.
The only problem is that it might be a case of too little too late for some fans.
Would a second series be a good gamble then? I don't know. It's a show with some strong assets - great key cast members, good styling and music. But after solving the case of who killed Rose, a rethink of story arc and emphasis might be in order. Just don't get any zombies involved.
- TimeOut