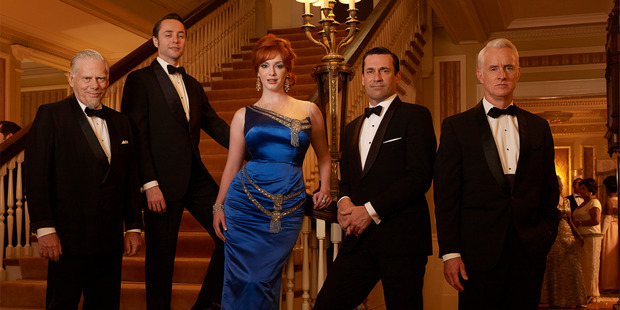 Pick of the week: Mad Men
As the acclaimed series returns for its sixth and what creator Matthew Weiner says is its penultimate season, he's asking fans to embrace concepts that haven't exactly been in overabundance in its acclaimed past - belief and trust.
They must believe that he knows what they will find satisfying for Don Draper (Jon Hamm) , Peggy Olson (Elisabeth Moss), and the other souls of Mad Men, and trust in his vision as the AMC drama returns to Sky's SoHo channel with a two-hour episode. That he's putting his characters on the knife's edge of dread may not make that trust any easier, especially since Weiner believes we are living uneasily with a 21st-century version of their 1960s mindset.
"This season is very much capturing what's going on right now, in a strange way," Weiner says. "I think we have been thrown into a state of individual anxiety, based on being disconnected from events outside our control, including economic disarray."
The writer-director paraphrases a line from Sunday's episode that he deems key to the sixth season: people will do anything to alleviate anxiety. If that's intriguing but maddeningly cryptic, that's how Weiner wants Mad Men to be approached. No spoilers, not even a hint of what happens, when it happens.
But if Weiner won't talk about what the season is, he's at least willing to say what it's not.
"It's not about Lane's suicide. There is no eulogy for Lane. It's not all about Joan and the Jaguar guy," he says. The references are to two of last season's more startling twists: the hanging death of ad agency partner Lane after he's fired for theft, and Joan prostituting herself, under pressure, to win the luxury car account for the agency.
There are other stories to be told, Weiner says, even if viewers tend to cling to the past and would prefer the show pick up with the calendar flipped just a day or two ahead.
That would become boring "really fast" Weiner says. "They [viewers] don't know it, but that would get burned out ... They have to trust me," he says, even if it takes a couple of episodes to unfold.
While Mad Men has flipped through the mind-bending 60s, Don has remained steadfastly true to the music, liquor and tie-and-shirt dress code of his generation while his colleagues let it all hang out with Beatles albums, pot and turtlenecks.
But don't mistake Draper for a lead-footed dinosaur on the verge of extinction, Weiner said.
"The world has finally caught up with Don. The world is in a state of identity crisis and he is the ultimate survivor."
When: Sunday 8.30pm
Where: SoHo
What: The penultimate season starter
Awards pick: MTV Movie Awards 2013
It's the night when Hollywood's favourite stars leave the serious tone of the Oscars behind and celebrate with a little irreverence. Airing live from the Sony Picture Studios Lot, California, the show is a mash-up of speeches, musical performances (from stars like Macklemore & Ryan Lewis), tributes, and the debut of the trailer for the latest Hunger Games film, Catching Fire. Hosted by comedy star Rebel Wilson (a nominee for her role in Pitch Perfect) it's a night when someone like Channing Tatum can be nominated for Best Male Performance for his stripper flick Magic Mike, along with Best Shirtless Performance. There are also awards for Best Fight, Best Scared-As-Shit Performance, Best Kiss, Best Villain, and Best WTF Moment, among more traditional categories.
When: Monday, 12.30pm
Where: MTV
What: The Oscars' more pop-oriented cousin
Reality pick: Drug bust
This new series of this popular reality crime show could also be called P Busters. Because it's P that this season of Drug Bust focuses on, in all its gritty and brutal realism. Whereas in the past the series has covered everything from meth labs to tinnie houses, this time it takes viewers along for the ride with the teams of police on the frontline battling "the scourge of P in New Zealand". The show follows each operation from beginning to end, including the planning, the investigation and the final sting. It also looks at the side effects of P and the cost to people's lives that police see every day, from the effects it has on children living in meth houses to drug-related violence.
When: Monday, 7:30pm
Where: TV3
What: Special project P
Final pick: The Blue Rose
In the most recent TV outing for Outrageous Fortune stars Antonia Prebble and Siobhan Marshall, their amateur sleuthing club The Blue Roses has spent 10 weeks poking its nose into law firms and biker gangs, trying to unravel who killed personal assistant Rose. The partners and staff at Mosley & Loveridge, their high-flying clients and dodgy connections have come under scrutiny. But it's all come down to the final double episode to find out whether the Roses can nab their man (or woman). As tensions mount, the girls make risky decisions, getting more deeply involved with the suspects than they want. Will Linda find dirt on property mogul Peterson? Will Jane give the game away to her boss Simon? Or will the club disintegrate before they've found the truth?
When: Monday, 9.30pm
Where: TV3
What: The classic denouement
Wildlife pick: Earthflight
The inventiveness of wildlife cameramen and their producers never ceases to impress. The latest BBC series, Earthflight, came hot on the heels of Frozen Planet, and gave viewers a rare insight into the life of birds, while producing stunning "bird's-eye views" of the world. In this week's final episode, narrator David Tennant explains how the team got its footage, and assimilated cameras into flocks. In Africa paragliders floated alongside vultures while a model vulture carried a camera inside the flock. In South America wild macaws rescued as babies could be relied upon to return to their human foster mother (and camera). A radio-controlled drone was used to infiltrate a gathering of pink flamingos, and microlights and helicopters captured the arrival of white storks over Istanbul.
When: Sunday, 8.35pm
Where: Prime
What: How to fly with the birds
- TimeOut