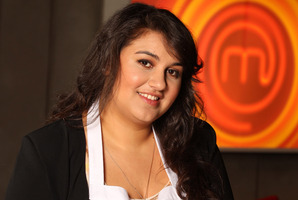 Dana Leaming thinks it's a bit rude that the thrill of her very first overseas trip was dangled in front of her, but snatched away when she was booted from the MasterChef New Zealand competition.
"It would be like telling a bunch of small kids they have access to a candy store, and then telling them, whoops we're joking, and then throwing it in their faces, that's what it would be like," she said during the filming of the reality TV cooking show.
"When you think about it, in actuality, it's actually quite rude!" she said later, giggling down the phone from her "crappy student flat" in Wellington.
The last couple of weeks were rocky for the 23-year-old theatre student. First, she dished up a dodgy sponge cake, which, in her own words, "looked like someone defecated on a plate".

"It was like I had become five years old and I slapped some chocolate on," she said.
Then, when she drew the boarding pass of Japan in the latest challenge, she knew that the country's cuisine was going to spell the end of her MasterChef ride.
"I think it was destiny," she said.
"I picked something that I had no idea what I was doing. There's something uncanny about that."
The top nine contestants had to randomly select a Jetstar destination from the hand the airline's CEO, and guest judge, David Hall. They were then given a box of ingredients and a recipe to cook - the catch was the missing measurements.
Some got lucky, Paula picked Thailand, where her husband is from. Sushil was left with Fiji - the gift of cooking a curry from the Pacific Island brought tears to the passionate man's eyes.

But the disheartened look on Dana's face when she made her choice, you could tell she was in trouble.
"Doing Asian to me, is like getting a three-month-old baby to recite the alphabet," she said.
When the judges asked her what she knew about Japanese food, she told them: "a little bit".
"Fresh spring rolls, deep friend spring rolls...."
Ray McVinnie pointed out to her that neither of these are actually Japanese. Dana laughed nervously, "maybe I don't know anything!".
"If you don't know how it's supposed to taste, you're a bit screwed in this competition," she admitted.
Dana's attempt at buckwheat noodle soup with tempura prawns was hard to watch. She had a seaweed element that was looking like swamp water and her noodles had stuck together in a gluggy heap.
When it arrived at the table for judging, there was barely any liquid in her "soup" and Josh Emett could smell something "unusual".
"It's the dashi stock which is the base of most Japanese dishes," McVinnie explained, predicting it would be a "stinky, bitter" dish.
The food critic took one mouthful before putting down his spoon: "I really don't want to taste any more of that."
With a disgusted swipe of his hand, Emett was harsh: "It's vile".
"For me that's a complete and utter disaster."
When the contestants returned for the eviction news, Dana copped a flogging by the judges. It was obvious that she would be the one that didn't get a seat on the plane bound to Fiji for next week's challenge. Her fellow contestants were clearly upset by the departure of the popular housemate.
"It was a really hard challenge," Dana said.
"My recipe was really hard, I don't know many people who know how to do that, except Japanese people."
* MasterChef New Zealand screens on TV One on Sunday nights. www.nzherald.co.nz will interview every contestant as they are eliminated.
Follow Life & Style Editor Nicky Park on Twitter and Instagram.