Grammy-winning blues singer and slide guitar player treats audience to signature songs from long career.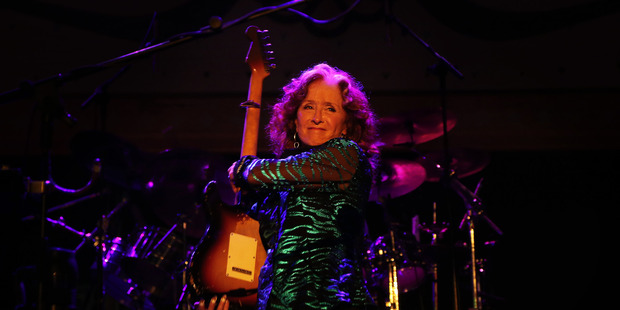 Under threatening late-afternoon clouds in a beautiful vineyard setting, the great Bonnie Raitt delivered a perfectly pitched Sunday evening set.
Over 100 minutes she favoured songs from her recent Grammy-winning album Slipstream, nodded back to signature material from her long career (early on the popular and saucy Something to Talk About) and delivered a performance in which the pace steadily picked up until the closing overs when - after a wonderful treatment of her exceptional I Can't Make You Love Me - she pulled in rocking blues and funk which had the appreciative audience dancing.
Starting the concert with the impressive Gore-raised Jackie Bristow (her international experience eschewing Kiwi self-effacement for confidence) and finishing early enough to have many home in time for Masterchef was also smart given how chill evenings have become recently.
Raitt is always a personable and engaging performer (thanking the crowd for their support in these days when there are other demands on the dollar) and also one aware of her surroundings.
She jokingly mentioned the All Blacks, acknowledged the gorgeous setting ("I love that there's an ambulance standing by" she said, glancing stage right), fluffed a couple of intros, joked with the crowd and her longtime bandmates, and at the end generously thanked and invited up Bristow who had wooed and won the audience with a short set of fine, slightly moody and melancholy Southern-influenced country rock.
As a tight package this was hard to beat.
Kicking of with the Stones-styled rocker Down to You from Slipstream, Raitt gave plenty of room for the collective experience of her band - notably keyboard player Mike Finnegan and guitarist George Marinelli - which was showcased early on Bob Dylan's bluesy and brooding Million Miles. And the superb ballad You Can't Fail Me Now, alongside material which gave her space to play rocking slide guitar, made for a set which allowed for different directions within the seamless and soulful whole.
Bonnie Raitt - an ageless 63 - enjoys a special relationship with her loyal audience and this generous, intelligent, sometimes amusing and always engaging concert again proved why.
And why she's something to talk about.
Live music
Who: Bonnie Raitt. Jackie Bristow
Where: Ascension Wine Estate, Matakana