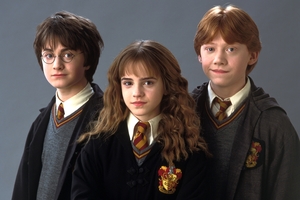 Emma Watson says chat-up lines about Harry Potter come from "the very worst men''.
The British actress is frequently listed as one of the sexiest women in the world.
The 22-year-old, who appears on the latest cover of GQ magazine, says there's one topic men should steer clear of if they want to win her affections.
"The very worst men are those that say, 'Are you the girl from Harry Potter?'" she laughed to UK newspaper The Telegraph.
Watson is best known for playing smart witch Hermione Granger in the Harry Potter wizard movie franchise.
She has recently shed her association with children's films for a more grown-up image as seen in her sexy GQ cover shoot.
The outspoken star also revealed she is turned off by vain men, and advised potential suitors to steer clear of her if they are looks obsessed.
"The worst date I've ever been on was a guy who told me he couldn't be friends with fat people or anyone who was unattractive,'' she continued.
"I realised pretty quickly that he was a nutter.''
Watson needn't worry about dating for the time being as she is happily seeing boyfriend Will Adamowicz.
She met the American postgraduate student in 2011 while studying English at Oxford University, after they both transferred from Brown University in Rhode Island.
She has previously been linked to George Craig, the British singer of rock band One Night Only, and American actor Johnny Simmons. Both these relationships petered out after a few months.
- COVER MEDIA