Anna Hutchison tells Nick Grant it's break-or-bust time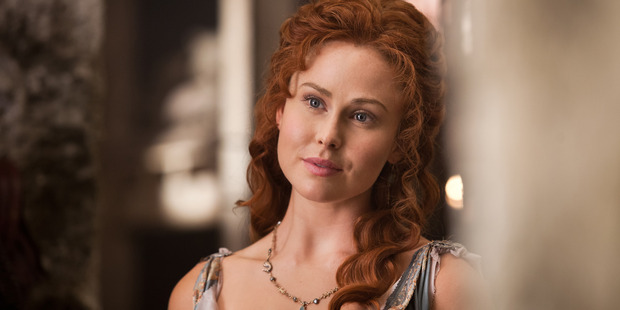 To say Anna Hutchison talks nineteen-to-the-dozen is to underestimate the energy she brings to a conversation; ninety-to-the-dozen is closer to the mark. Such is the enthusiasm she brings to subjects as diverse as starring in the final season Spartacus and her "never-ending" business degree, that when she mentions giving her acting career "700 per cent" you're inclined to believe her, despite the unlikely maths involved.
The actress - whose CV includes Go Girls and Shortland Street - splits her time between NZ, Australia and Los Angeles. At the moment she's living in LA in pursuit of work.
"I'm just auditioning for TV shows and movies at the moment," she says. "Last week I went out for 12 auditions, which is unheard of in New Zealand, where you might be lucky to get maybe three a month. So even though I'm not actually working right now, it feels like I've got a fulltime job!"
Spartacus: War of the Damned starts screening here tonight but it's been on air in the US since January and rating "really highly", says Hutchison. "It's exciting to have something you've done in New Zealand on screen over here, and to be here while it's all going on."
Hutchison was thrilled to be cast in the series, given her long-held desire to work on a show with Rob Tapert, the American-born producer who's brought hundreds of millions of dollars of production to New Zealand in the form of programmes such as Hercules, Xena and Legend of the Seeker.
"Isn't that man incredible ? The amount he invests in New Zealand, and the shows he brings in, it's amazing," she enthuses, before noting it's a shame Sparty (as she calls it) is better known in Godzone for its gouts of blood and liberal lashings of nudity than for its major contribution to employment.
"They built a whole world for the series and it created so many jobs for crew members, the cast, craftspeople... I loved working in New Zealand on such a grand scale, and it really is a fabulous show, though the content is quite graphic, no doubt."
Hutchison plays Roman widow Laeta (pronounced 'Lighter'), who ends up enjoying a schizophrenic relationship with Spartacus' title character. "She'd be helping him in one episode, and deceiving him the next; I'd never know what was coming up, which made playing her fun but challenging."
Another challenge Hutchison faced was grappling with the show's distinctive dialogue, which eschews pronouns as a way of approximating how Romans of the era might have sounded. (Sample lines: "Open mouth and lend voice to tongue"; "Put sword in hand".)
"The language is different and was tricky to start with," she says. "I was fortunate to have the wonderful actress Miranda Harcourt at the beginning to guide me about how to approach it. After a couple of episodes that way of speaking became natural, in much the same way as doing that incredibly fast-paced mega dialogue for Go Girls became second nature."
Hutchison has a commendably pragmatic attitude to the realities of her chosen career: "I think all you can ever do as an actor is work as hard as you bloody well can on the days you're paid to be on set, because that's all you've got control of... Then the editing comes into it, the director's cut, all of that stuff."
She's so passionate about performing she has put her business degree on hold, despite having just one year to go. "I don't want to have a plan B at the moment," she says, "I just want to give everything to acting." Which, at the moment, means auditioning.
"I'm busy-as, I can't tell you how busy. I feel like I've read pretty much every script around that's got a 18-to-30-year-old woman in it, so my brain's bursting with cops, girls, 26-year-old crazies, all sorts of wonderful roles to play. Now it's just a matter of hooking one."

Anna Hutchison stars in the final season of Spartacus, called War of the Damned, starting on Sky channel the Box tonight at 8.30pm.