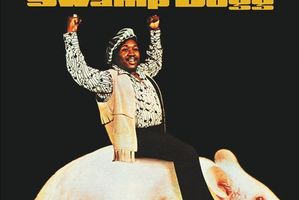 No, not Snoop Dogg, but Jerry Williams (aka Swamp Dogg), a soul man and American music cult hero who had his heyday in the 70s and early 80s. These reissues are his first two albums, with 1970 debut, Total Destruction to Your Mind, a near classic. It's at its best with the hard-out grooves, blasts of brass, and Dogg's effortless and wild delivery on the title track and the cheeky and tough Red Neck with lines like "Hey Red Neck, God said brain, you thought he said rain, and you ran for cover". But he can slip into slower soul crooner mode on The World Beyond, which sounds like a Maori show band tune, and the lovely lilting and loping serenade of I Was Born Blue. The highlight though is Sal-a-Faster, because from the moment it hits, with its low-slung funky bass line, simple incessant guitar hook, and the wending and winding vocal , it's what makes this album a magical - yet somewhat sadly overlooked - slice of 70s soul.
Meanwhile, Rat On! is a continuation of Total Destruction's blend of soul, funk and rock 'n' roll, but it's not quite as vital and dynamic, with songs like Predicament #2 a little whiney and his cover of the Bee Gees' Got to Get a Message to You aimless and basic.
But never fear, because you can get your "rat on" to opener Do You Believe and closer Do Our Thing Together which will have you pulling you best soul man moves, and sliding across the floor. On She Even Woke Me Up to Say Goodbye he delves into his country music influences, but overall Swamp Dogg is a funk soul brother.
Stars: 4/5
Total Destruction to Your Mind
Stars: 3.5/5
Rat On!
- TimeOut