An acclaimed new film set in the era of the Berlin Wall stars Nina Hoss as a doctor who is exiled to the Baltic coast after trying get a transfer to the West. She talks to Helen Barlow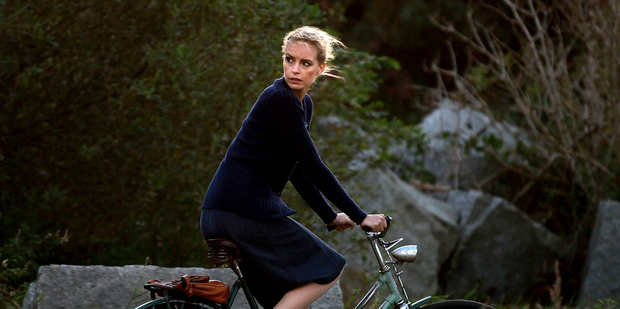 Tall, blonde and striking, Nina Hoss could have rested on her considerable good looks in the acting profession.
Or she could have even entered German politics, following in the footsteps of her father, former trade unionist and Greens politician Willi Hoss.
Instead the 37-year-old, a top star in her country, continually stretches the boundaries. She's worked on stage with American avant-gardist Robert Wilson and is currently preparing for the role of Hedda Gabler at the Deutsches Theater in Berlin. In cinema, she recently made her English-language debut alongside Philip Seymour Hoffman in the upcoming big-screen adaptation of John Le Carre's A Most Wanted Man directed by Anton Corbijn.
Above all, though, Hoss is known for her five movies with East German-born Christian Petzold, the most prominent of the so-called Berlin School of film-makers who is increasingly making his presence felt overseas.
Petzold writes and directs his own distinctive type of psychological thrillers, which New York Times critic Manohla Dargis says "are distinguished by their strange story turns, moral thorns, visual beauty and film-making intelligence".
Hoss, who won the Berlin Festival's best actress prize for Petzold's 2007 film Yella, about a woman who moves from East to West Germany post-Reunification, says she "likes the topics he approaches and how precisely he observes them". Petzold won Berlin's best director award last year for Barbara, which stars Hoss as the title character, an East German doctor sent off to a small hospital on the Baltic coast as punishment after she files a request to leave the GDR. There, the hospital's handsome head doctor, Andre Reiser (Ronald Zehrfeld), has been instructed to spy on her, though Barbara remains aloof. Eventually she becomes close with Reiser during their treatment of a sick girl.
The film was Germany's 2013 Oscar nominee for best foreign language film and it has earned plenty of comparison to The Lives of Others for its depiction of life under the East German brand of communism.
"The film was set in a part of Germany I didn't know," explains Hoss. "When I grew up, I didn't have a clue about the way East Germans lived and what they dealt with. I had to go deeper into their history and that was very, very interesting and I feel I understand them better."
In all of Petzold's films, the protagonists are searching for where they belong. It's interesting, says Hoss, that the director thinks she's a good fit for his insular, tightly wound characters.
"Some characteristics might have something to do with me, but I haven't built up this defensive wall as many as the characters have to in Christian's movies.
"We also do that to create tension. If they don't have a problem you wouldn't be interested in them. It doesn't mean I never have problems but I would deal with them differently. I'm much lighter than his characters," she insists with a laugh.
Though one could never imagine Hoss being frivolous in a movie. What about playing a Bond girl?
"Maybe," she responds, "but only if you could turn that around. If it's a stupid blonde in a bikini then I wouldn't be interested, but if it's an interesting character being mean, or something like Javier Bardem played, that could be good."
Hoss has received numerous offers for English-language films, but only said yes to A Most Wanted Man. She says she greatly enjoyed working alongside Willem Dafoe and Seymour Hoffman.
"I'm kind of Phil's partner, running the office in Hamburg where he works as a kind of spy, so I help him with the case."
She gained a new confidence from the experience of working with the American actors.
"I don't consider myself to be lacking in confidence, but the confidence they have is so natural and no one is afraid of anything. It's just there and you work together."
Now her sixth movie with Petzold is in development and she will bring her newfound confidence to the project.
"Actually, I would like that we try something totally different. I'm already as prepared as I could be as I'm part of the process - not of the writing but of the construction of the story. It's good because I don't have to hurry to prepare right before we start shooting - I'm already in a good position."
Who: Nina Hoss, German film star
What: Barbara, East German Cold War drama
When: Opens at cinemas on Thursday
- TimeOut