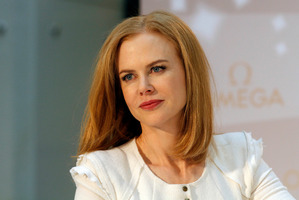 Despite the critically acclaimed and intense roles Nicole Kidman has recently taken in films such as The Paperboy and Stoker, it seems the Aussie star isn't above poking fun.
The Hollywood Reporter's website reports Kidman has recently shot an uncredited comic cameo in the sequel Anchorman: The Legend Continues in Atlanta.
The film brings star Will Ferrell (Ron Burgundy) back with Steve Carell and Paul Rudd, with Vince Vaughan and Owen Wilson also reported to have shot small parts for the sequel.
Kidman showed off her comic chops in the Adam Sandler/Jennifer Aniston film Just Go With It in 2011 and was nominated for a Golden Globe in 1996 for her leading role Gus Van Sant's black comedy To Die For.
Anchorman: The Legend Continues is due to be released in Australia in December.
- AAP