Olga Kurylenko tells Stephen Jewell why films beat fashion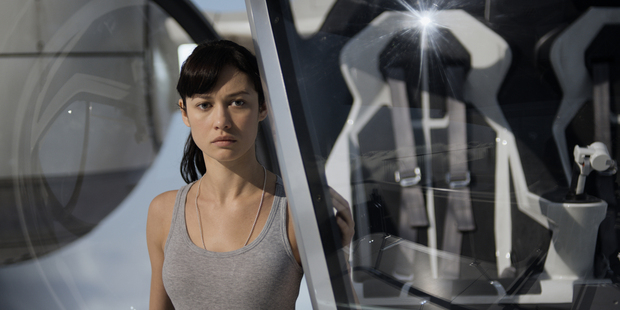 While many former Bond girls have later failed to escape from under 007's formidable shadow, Olga Kurylenko's career has flourished since the 33-year-old Ukrainian played Camilla Montes in 2008's Quantum of Solace. Determined to prove her versatility, the model-turned-actor will soon be seen in two different films. She stars first in Tron Legacy director Joseph Kosinki's latest sci-fi extravaganza, Oblivion, then appears in Tree of Life director Terence Malick's considerably more experimental To The Wonder.
"I make my choices and choose my roles carefully," says Kurylenko, who refuses to be typecast as the sexy sidekick. "I don't get sent those kinds of scripts any more because I just said no too many times." Nevertheless, she describes her appearance alongside Daniel Craig in the 22nd Bond outing as a positive experience. "It made people know who I am," she says. "And I certainly acquired some great skills during that shoot, that's for sure."
Born in Ukraine, Kurylenko started acting in school plays but only began to realise her ambitions after shifting to Paris to pursue a modelling career. After featuring on the cover of magazines, including Elle and Vogue, she appeared in several French-language films before Quantum of Solace provided her with her Hollywood breakthrough. Kurylenko had grown tired of the fashion industry's artificial glamour. "I didn't find the modelling jobs to be expressive enough, so I decided to do some acting classes, just for my own pleasure. In the end, my teachers told me that I should do it professionally so I thought that I should try because I enjoyed it so much and it's worked for me so far."
Although it is set on a devastated near-future Earth, Oblivion boasts a nostalgic retro quality that attracted Kurylenko's interest. "It's a post-apocalyptic movie and, even though we've seen plenty of those, it just seemed so original," she says.
"There's also some romance, which is written quite beautifully. The way that Joe wanted to do it was like all those movies from the 1940s as it's very clean and pure." Kurylenko plays Julia Rusakova, a mysterious astronaut who is rescued by Tom Cruise's Commander, Jack Harper, after her spaceship crash-lands nearby. "I can't really give it away but he brings me home and that creates a lot of questions in their lives," she says. "He and his wife (Andrea Riseborough) are like the last survivors on Earth as all the other people have left and gone to other planets. The Earth has become impossible to live on and they're like a mop-up crew, which is also about to leave."
Kurylenko says Oblivion's big-budget production was the polar opposite of the improvised methods Terence Malick adopted on To The Wonder.
"There was a lot of spontaneity and real things as you just became your character. You would never prepare a scene ... he just turned the camera on and you were your character 24/7."

Oblivion opens this Thursday, April 11.