Magazines will be clamouring for the official family pictures.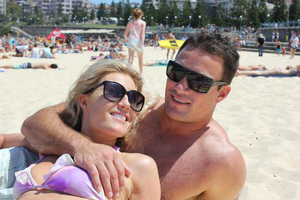 All Black Richard Kahui is set to walk down the aisle later today, close friends tell The Diary. The pin-up rugby player will wed his Australian-born fiancee Amy Rhodes at a private estate in the Waikato.
Kahui's camp are staying mum about the details. His agent, Kent Hale, was tight-lipped when The Diary rang. "Look, I can't say anything about that. It's private to Richard," he said.
The paparazzi and women's magazines have never had it so good. All Blacks are big business, and with three babies and a wedding in quick succession the magazines are gearing up for some big sales.
Last week, Dan and Honor Carter announced the birth of their son, Marco James, and this week, Ali Williams and his wife Casey welcomed a baby girl, Jessica Harriet.
Rene Ranger and his partner are also expecting the stork.
Celebrities can demand thousands of dollars from magazines in return for their story. The Carters reportedly netted up to $100,000 for their wedding splashed across the pages of women's magazines.
How much can they expect for a bubs story? Sources say up to $35,000.
Meanwhile, Richie McCaw made headlines in Sri Lanka last week playing the milkman, but his pay cheque came from another source. The All Blacks skipper was on a whistle-stop, two-day tour as Fonterra's global ambassador. He toured milk processing plants and met dairy farmers.
Last year, Fonterra announced it had secured McCaw as an ambassador to help "build pride" in the dairy giant, with an annual fee in excess of $300,000, marketing experts speculated.
Kahui says 'I do'
Kahui, who returned to the field last week, is understood to have invited teammates to his wedding. The Chiefs have a bye this weekend. "He's asked mates from his Hamilton days and the Chiefs boys," said an insider.
"His Blues mates won't be able to go though, they've got a game."
Kahui, who will be wearing a custom-made Crane Brothers suit for the nuptials, celebrated his stag do last weekend in Hamilton with close friends. "Look, all I can tell you is that it was down the line and a bus was involved," laughed one guest.
Kahui is fiercely private about his personal life. The 27-year-old proposed to his long-time girlfriend, a teacher, last year. She moved from Sydney's Coogee to Hamilton to live with Kahui. The couple will set up home in Japan at the end of the Super rugby season.
Not the 6 o'clock news
TVNZ newscaster Simon Dallow is set to make a surprise cameo appearance on the new series of Go Girls. Dallow will play himself on an upcoming episode of the hit series which is set to air at the end of the month.
The 48-year-old veteran journalist is reticent to talk about his thespian debut. "He's reluctant to acknowledge his skills as an actor," said a rep for South Pacific Pictures, makers of the series.
"He's keen to keep it on the down-low, but that's tricky when it's a primetime show."
Dallow was chosen by producers who wanted a well-known face for the role. He will play the master of ceremonies at an event. But it's unlikely to require much acting. Dallow's an old hat at public speaking and being MC at functions.
For the former lawyer and Contiki tour director, notching up a cameo role on a hit television series about 20-something Aucklanders is bound to go down well with his teenage children, Paris and Joel, who he shares with ex-wife Alison Mau.
Dallow is not the only new face on the TV2 show. The fifth season of Go Girls has an all-new cast of hot young things.
"It was time for the show to introduce a brand new cast of characters," says SPP. The new cast of fresh talent includes ingenues George Mason, JJ Fong and Shara Connolly.
Veitch slams press
Radio Sport may be the broadcast partner of New Zealand Cricket, but that didn't stop the association imposing a ban on the station last week after an interview with assistant coach Bob Carter was aired with unauthorised comments.
The interview was obtained on the proviso that questions on Ross Taylor's post-match comments would not be asked. They were.
Tony Veitch took to Facebook to support his station. "I do occasionally play the game and stay away from topics that will offend an individual, but in this case I believe Radio Sport had to ask the question."
However, half an hour later, Veitch was singing another tune.
"NO ONE STORY IS WORTH SCREWING OVER A PERSON FOR!" he bleated on Facebook, in capital letters for added effect.
"That's my mantra. Some of you may think that makes me a soft c***, but ... I'm happy to still consider journalism as having principles."
Veitch would only be doing his job if he asked the hard questions without fear or favour.
"SBW would never do an interview if he was going to be asked about his girlfriend or his contract negotiations, so what do you do in that situation? Do you piss off his minders for [the] sake of one non discript [sic] answer, or do you play the game and maintain a relationship?" he asked.
Veitch's boss, David Brice, told The Diary that may be "Tony's philosophic approach," but the "station's editorial position is to use our news value judgement based on the merit of each story".