French organist overcomes problems to set sparks flying ... but a Messiaen encore would have been nice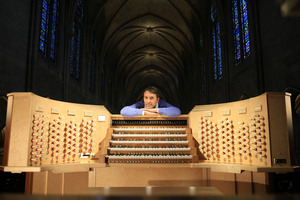 A good crowd had come along to hear Olivier Latry giving the Town Hall organ a work-out in the grand romantic tradition on Wednesday night.
Introducing the celebrated Frenchman, who plays the organ in Paris' Notre Dame cathedral, MC Kerry Stevens mentioned that Latry had installed more than 500 combinations of stops on the instrument's computer; in the stalls around me there were audible gasps of expectation.
Latry set off with a nod to the Baroque - Henri Messerer's transcription of Bach's solo violin Chaconne. The arrangement went further than simply underpinning the original violin lines with sturdy chords; Messerer's simplified, almost primal harmonies in the major section inspired Latry to stun us with a blaze of high octane splendour.
Not so impressive were some delinquent squawks earlier on, occasioning a re-tuning. And it was disappointing that Latry's magical, whispered shift to the major was stymied by a torrent of applause.
The Prelude and Liebestod from Wagner's Tristan und Isolde, despite a profusion of colours, inevitably proved that nothing can replace the intensity of orchestral strings.
But later on, Latry sprinted through Saint-Saens' Danse Macabre, dispensing all the colours and fun of a Halloween carnival, for the reward of wolf-whistles and bravos.
For many, this recital was a rare opportunity to hear classic French repertoire. The sweet, cloying tones of the harmonium were not so distant in Cesar Franck's Cantabile, even though Latry was fastidious in his dynamic restraint, before breaking out into a swaggering Piece Heroique.
Alexandre Guilmant is a lesser figure but Latry rolled out the Finale of his First Sonata with the affection that only an organist could summon, closing with virtuoso pedal work.
Two pieces by Louis Vierne, dating from the 1920s, revealed an essentially 19th century composer writing in post-Debussian times.
Vierne's Feux Follets had Latry flickering, flame-like, through its mercurial 5/4 pages, surprising us later with a registration that sounded as if a human voice had been trapped in the conflagration.
An encore, Vierne's sonorously spectacular Carillon de Westminster may have fitted in with the programme, but Feux Follets had left me, and perhaps others, with the desire to hear some Messiaen, for which Latry is justly acclaimed.