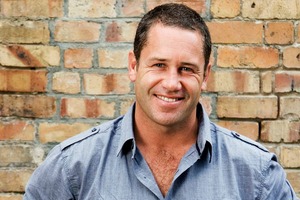 Former All Black Marc Ellis was in hospital for days after stitches in his leg became infected when he used a sauna.
The radio personality, 40, had surgery on his leg just under a month ago "to get some bangs and bumps that needed to be ironed out", he told the Herald.
But his stitches became infected a short while after he was released from hospital. "It wasn't any fault of the surgeon," Ellis said yesterday.
"I went for a visit to a sauna which probably wasn't the wisest thing to do and the result was a few more days in hospital, but it's all cool now."
Ellis was admitted back to Auckland Hospital last Tuesday because of the infection. He stayed there until Saturday.
Ellis spent the Easter break recuperating before heading back to work this week.
Doctors told him his recovery was likely to take six weeks, but he hopes it will be in time to play a social cricket game this weekend. "They're 40-year-old legs now so it's a bit different now, unfortunately."
Ellis first played for the All Blacks in 1992 and during the 1995 Rugby World Cup he scored six tries against Japan, the record for the most tries by an individual in an RWC match.
At the end of 2011, he began co-hosting More FM's breakfast show.