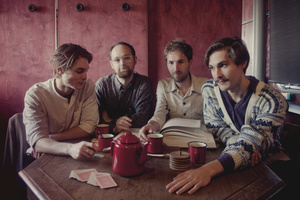 Having met at university, Stornoway, the whimsical, outdoorsy, folk-pop four-piece from Oxford, garnered attention the old-fashioned way - they played gigs. Lots of them.
Then they got offered a slot at Glastonbury, where they were spotted by the music booker for Later With Jools Holland, and ended up on an episode that also featured Jay-Z, and the Foo Fighters. Not long after they were signed to 4AD, and released their first album, Beachcomber's Windowsill, in late 2010.
Two years on, they've just released Tales From Terra Firma, a somewhat bolder, more emotional affair, as frontman and songwriter Brian Briggs explains.
You've said the songs are "stories that a human might want to tell, after spending time on Earth". Where did that idea come from?
The songs all grew from things that happened in our lives over the past few years - getting engaged or married, having children, or in a sadder way, losing loved ones.
So basically, lots of the things that inform human existence. It's a bit more of a coming-of-age album I suppose rather than an album about first love and being at university.
It does have this theme, sort of true stories, and tales of life as a human being, but that was more because those things were happening, rather than thinking about finding a great theme.
There's all sorts of intriguing sounds on the album - saws, spoons, wood-chopping, mbira. Do you imagine them right from the start or is it more a case of experimentation?
"Sometimes I've already got a strong vision and other times it's about exploring. So for example, The Great Procrastinator, it's kind of laid-back, features some woodwind at the start, and it turns into a bit of a "last patrons at the bar" type of sing-along. But it had a few incarnations before we went for that style. At one point it was a high-speed, finger-picking, American banjo thing.
You recorded and produced the album in a garage, but you also recorded four songs in various other locations.
We did The Ones We Hurt the Most, and Farewell Appalachia in a lovely church - they've both got quite a reverby, open sound. And then we did The Great Procrastinator in the community centre hall just down the road, which had this old honkytonk-type bar-room piano. And in November Song, if you listen closely, you'll hear the sound of wind, and things clattering about, and that was recorded in a barn nearby on a rather windy evening. We like to use different locations because it's hard to replicate that atmosphere in a studio. If you record together in a particular space you can capture something that you can't get by recording in a dry garage and putting on something like the reverb after.
Do you think having a background in ecology [a PhD in duck conservation] is connected to the outdoorsy interest in the songs?
I think it's the fact that the music is all very honest, it's all very personal ... The outdoors is very much a part of who I am. Every song ends up with some reference to the outdoors or the weather or seasons.
- TimeOut