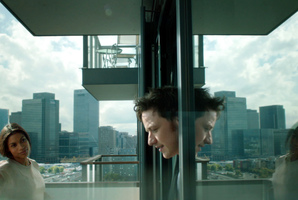 Trance isn't the first Danny Boyle movie to start with a Scots accent-narration inviting us along on what turns out to be one wild ride. But this time we're in London, not the Edinburgh of Trainspotting.
And though James McAvoy's Simon, a guy who works at an high-end art auction house, has his own bad habits, he's a much different creature from Renton and the rest of the heroin gang Boyle brought to such vivid life from Irvine Welsh's first novel.
That was also the second screenplay writer John Hodge did for Boyle after their joint debut feature Shallow Grave. Trance is their first dual effort since their adaptation of Alex Garland's The Beach in 2000. Despite The Beach's tepid reception, Garland then became Boyle's script man of choice on smart zombie flick 28 Days Later and mindbending space flight sci-fi, Sunshine. Then Boyle genre-hopped again into Bollywood on Slumdog Millionaire and survival thriller 127 Hours. Oh, and he put on a certain live extravaganza to christen a London sporting event last year.
All of which is to say that though Trance might have an accent in common with Trainspotting, it doesn't have much to do with any of Boyle's other films. But none of his ever-energetic output have much to do with each other, though Shallow Grave and Millionaire both concern a valuable stash, as does Trance.
The Beach excepted, it seems the ones based on books come out better than the ones based on original screenplays, which tend to make Boyle look like he's attempting cover versions of other directors - Kubrick for Sunshine; the Coen Brothers on A Life Less Ordinary.
Worryingly, Boyle has said Trance - an original screenplay by Hodge - is influenced by Nicolas Roeg's 1970 cult head-spinner, Performance. With its art-heist premise, its sex and violence, it has a couple of elements in common.
Like Performance, it might be an underworld movie - fittingly soundtracked by Boyle's usual pneumatic soundtrackers Underworld - and it's also about folks freaking out under the influence. But rather than Roeg's hallucinogenics, this time it's hypnotism.
That's because Simon - and no, it's not really a spoiler to say this - is the inside man on the robbery of a priceless Goya canvas.
In his efforts to look loyal to his employers, he cops a gun butt to the head during the robbery and then can't remember where he stashed the painting.
His fellow crims aren't happy with his amnesia. So much so, they see whether parting him from his fingernails will cure it. Nope, it doesn't.
That leads him to hypnotherapist Dr Elizabeth Lamb (Dawson) who, as her name suggests is a wolf in sheep's clothing - she twigs to why her patient is wearing a wire allowing ringleader Franck (Cassel) and his henchmen to eavesdrop. She wants in.
And that is about the point where Trance gets really interesting but, just as quickly, awfully unstuck.
For that, blame the hypnotism - suddenly this becomes a movie Where All Is Not What It Seems.
Only problem is figuring out how long all that has been going on for, oh and what alarming logic gaps can be attributed to it - like how after an extreme manicure Simon still seems quite happy to deal with Franck and co.
That's until sexual jealousy (or is it?) between the leading trio sets off a strange chain of events which manages to cram in a sideline art history lesson as its hall of mirrors collapses in on itself.
Had the characters or the actors behind been a little more convincing, this might have staved off indifference to their plight.
But it's nobody involved's best work and though its colour-coded visuals are divertingly stylish and neatly matched to Underworld's thumpings, Boyle should be reminded that in Performance, among all its craziness, Roeg at least got Mick Jagger to act.
It's the sort of film that starts off intriguing, swings towards infuriating then ends up inert, a movie that has expended a lot of style and energy in its what's real/what's not plot-dazzle only to end up like a spent catherine wheel, spinning to a stop, falling off its nail.
Stars: 3/5
Cast: James McAvoy, Rosario Dawson, Vincent Cassel
Director: Danny Boyle
Rating: R16 (violence, sex scenes)
Running time: 101mins
Verdict: Off the Boyle
- TimeOut