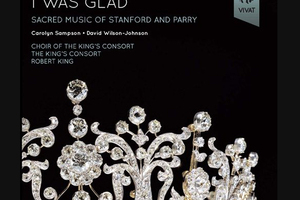 The scholarly conductor has injected new life ... by using his own editions. There is an air of celebration about Robert King's new CD of Stanford and Parry's choral music, recorded with his King's Consort as the first release on the group's new Vivat label. The glories of the late Victorian and Edwardian ages may not be for everyone, but King proves it was not all wan revisitings of Elgarian pomp and ceremony.
The scholarly conductor has injected new life here, not only using period instruments, but eliminating the crude misreadings of decades by using his own editions.
Stanford and Parry were progressive for their times, as you can hear in the first lines of the opening Stanford Magnificat, in which the spirit of Brahms is in abundance. Bearing in mind the reputation of these fine English musicians in the field of early music, one could be forgiven for hearing a viol-like delicacy in the muted and occasionally swooping strings that launch the ensuing Nunc Dimittis.
When it is time for grandeur, nothing is held back. After hearing Parry's coronation anthem I was glad: with full orchestra and blazing brass, it will be rather difficult to be content with just organ accompaniment.
As for the king of instruments, I am in awe of the technology that enables Hereford Cathedral's magnificent organ to be used on a recording made in the responsive acoustics of London's St Jude's church.
The Finale, Elgar's arrangement of Parry's Jerusalem, will be the undoubted crowd-pleaser but the high point comes a little earlier - a beseechingly beautiful take on Parry's setting of Milton's Blest Pair of Sirens.
Vivat's second release, Francois Couperin's Trois Lecons de Tenebres, finds the musicians on more familiar ground.
The desolate loveliness of these settings from The Lamentations of Jeremiah is far from the French composer's popular harpsichord pieces that inevitably draw parallels with the rococo frolics of Watteau paintings.
Recorded with almost reverential intimacy an instrumental trio, led by King on chamber organ, underscores soprano Carolyn Sampson and mezzo Marianne Beate Kielland. Individually, they are superb; duetting on the third lecon, they are quite simply superlative.
Stars: 5/5
I Was Glad: Sacred Music of Stanford and Parry (Vivat)
Stars: 5/5
Couperin: Trois Lecons de Tenebres (Vivat, both on Southbound Records)
Verdict: "Impeccable scholarship and musicianship combine on King's Consort's impressive new label."