Wellington-bred, British-based Willy Moon is shaping up as our next international pop star, reports Leena Tailor from Los Angeles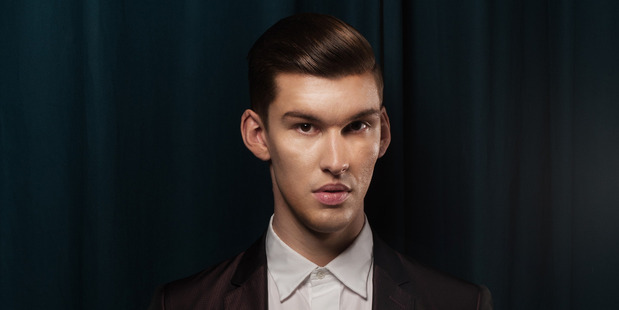 It's just on 10pm in Hollywood and a crowd of music executives, fans and curious locals - from members of hip-hop quartet Far East Movement to New Zealand musician Greg Johnson - are squeezed into club hotspot Bardot.
The man they're waiting for is Willy Moon and when he takes the stage, hair slicked back and wearing one of his signature suits, they erupt into cheers.
This may be his Hollywood debut, but the dapper ex-Wellingtonian is calmly taking it in his stride following a massive year, which has seen him touring Britain with former White Stripes frontman Jack White, signing with major record labels, being named one of the year's biggest stars by Vogue and having his track Yeah, Yeah blasting around the globe as part of Apple's latest iPod commercial.
Everyone knows the tune and after he drops his debut album Here's Willy Moon tomorrow, chances are everyone will know his name.
It's all a long way from the colourful and at times rocky upbringing which saw the 23-year-old - born William Sinclair but going by Moon (he wanted to be an astronaut as a kid) - sleeping on YMCA floors, taking drugs and almost giving up on music after losing his mother.
"My parents spent money in strange ways, so we travelled to London when I was 8 but it was difficult for them to get work," he tells TimeOut. "We were staying at the YMCA and we never knew where money was coming from, but at the same time we were having amazing experiences on the other side of the world, cruising around, sightseeing or watching jazz concerts. There was a real duality to that part of my childhood.
"Then we moved back to Wellington but my mother never worked and we stole a lot. It's just what we did. We were never really, really poor, but my parents wanted us to have a middle-class lifestyle, which we couldn't afford, so it was like, 'if we can't afford it, let's steal it'."
Moon matter-of-factly recalls frantically hiding stolen goods under floorboards when the police visited their home. He says he never stole himself, and appears unfazed looking back at the wayward way his relief-teacher parents provided for the family. Of greater impact on his childhood was the loss of his mother and "best friend" Elizabeth when Moon was 12.
Her drawn-out battle with breast cancer culminated in a nine-month hospice stay and while the final goodbye was "so horrible I barely remember it", Moon is grateful he had time to prepare and credits Elizabeth for gifting him a sense of possibility.
"She strongly put in my mind that if you believe in something you shouldn't let anybody tell you you're wrong or you can't do it. She always told us if you want to achieve things it doesn't matter if you don't have the means - make them for yourself.
"I've always tried to push my boundaries and never been afraid because she instilled that in me at a young age, which I'm very grateful for."
Still, the loss took its toll. While his father landed work in Saudi Arabia, sending money home to cover mortgage payments, Moon and his 16-year-old sister were otherwise left to fend for themselves. Skipping school and getting work at bars despite his age, he defied authority and developed a fierce sense of independence.
Although he had discovered a love for guitar through his father at 7, it was Elizabeth who would sit with him while he practised and following her death he couldn't fathom ever playing again.
However, at 16 he rediscovered his passion for music after a friend asked him to form a band. By then Moon was already living a rock 'n' roll lifestyle, having dropped out of school and developing a drug habit, starting with marijuana at 13.
"I guess a psychologist would say it was because I was grieving and putting those problems into taking drugs, but I really enjoyed it. I did every drug I can think of and loved psychedelic drugs.
"But I'm not in favour of them. I've never had problems with succumbing to addictions. I'm strong-minded. For me it was more about curiosity and I've been lucky enough to be able to move on, but I've seen others who can't and it's really sad."
Heading to London with his guitar at 18, he struggled to hold down jobs but met girlfriend and fellow Kiwi Sasha, who introduced him to the music of 1940s trio The Andrews Sisters. Their sound ignited a love for music of the era and after the couple relocated to Berlin, Moon started writing and recording music.
Through uploading tracks to MySpace and bombarding labels with demos, Moon was signed with Island Records in Britain, then Interscope Records in the US, both branches of industry heavyweight Universal Music.
"I was bracing myself for that horrible thing of them interfering and trying to turn me into something that I didn't want to be, but they didn't and I think it's a tribute to my manager.
"My A&R [artists and repertoire] guy gave me a couple of pointers and has sometimes said, 'I think you should do this', to which I've generally said 'No!'
"But I think they never quite knew what to do with me, so they generally left me to it. I've been lucky they haven't tried to control my image or music."
Moon, whose Yeah Yeah video was directed by Sasha, did however face his own creative challenges while writing, recording and producing the record. At times "angry, depressed and thinking, 'f*** it'," he credits Kiwi perseverance for driving him.
"Plus, I didn't have any other options. I don't have qualifications or even School Certificate and I'm not great at working with other people, so I've always felt like if I don't make this work, I'm screwed."
The resulting 12 songs total less than 30 minutes, reflecting Moon's short attention span, and present a unique fusion of hip-hop, rock 'n' roll and jazz, with Buddy Holly and The Ramones among his biggest influences.
Currently touring the US, where he reunited with his now San Francisco-based father, he has also played on The Tonight Show with Jay Leno.
"It's incredible when I look back at what's happened in the last year. Everything I spent the previous year working on is becoming a reality and it's a beautiful thing.
"Getting the album done is a really great feeling. It's nice to have made something, for better or for worse.
"It doesn't matter to me how it does. I like it and I hope others feel the same way, but the fact that I made it is the main thing for me."
The ultimate goal is to "follow my heart and never have to answer to people" but for now Moon is enjoying the ride and hopes it takes him back to New Zealand soon.
"We were meant to go back at Christmas, but so many things came up. That's the problem with doing what I do for a living now ... it's very difficult to plan things."
- TimeOut