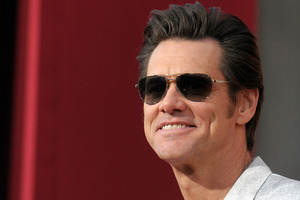 While in Washington legislators have struggled to introduce gun control legislation, in Hollywood the issue has sparked name-calling to make the most hardened senator blanch.
After Fox News commentators criticised actor Jim Carrey last week for a pro-gun control comedy skit in which he mocked gun owners and the National Rifle Association, Carrey described the right-leaning news network as "a media colostomy bag that has begun to burst at the seams and should be emptied before it becomes a public health issue".
On March 25, Carrey appeared in a spoof video clip on the comedy website Funny or Die, in which he played Lonesome Earl, a country and western singer performing a track entitled Cold Dead Hand. The song made fun of the late actor and former NRA president Charlton Heston, who once said that gun control activists would have to pry his rifle from his "cold dead hands".
In the clip, Carrey also portrays Heston, attempting to thwart Lonesome Earl's performance, but mistakenly shooting off his own foot.
Explaining the sketch on Twitter, Carrey wrote, "'Cold Dead Hand' is abt u heartless m************ unwilling 2 bend 4 the safety of our kids. Sorry if you're offended by the word safety!"
Fox News personality Greg Gutfield said Carrey was "probably the most pathetic tool on the face of the earth ... This video made me want to go out and buy a gun".
Gutfield told viewers that the video was "an attack on people with a drawl," and suggested the anti-gun lobby was composed of "sanctimonious turds". He also charged Carrey with hypocrisy, claiming the actor had an armed bodyguard.
Carrey replied: "I have watched Fux News rant, rave, bare its fangs and viciously slander me ... I sincerely believe that in time Fux News will be remembered as nothing more than a giant culture fart".
- Independent