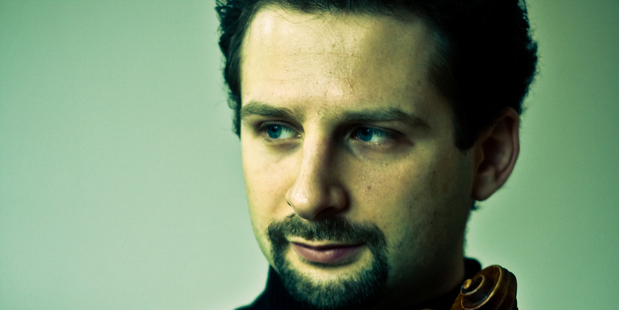 Ilya Gringolts has a soft spot for our nation. When the Russian violinist arrives next week, to play Mozart in the first concert of Auckland Philharmonia Orchestra's Bayley's Great Classics series, it will be his third visit downunder.
He remembers a day exploring Martinborough, discovering Kiwi sauvignon blanc and is impressed that I recall his 21st birthday being celebrated in Palmerston North nine years ago. "I planted a tree as part of it all," he says.
Gringolts, who has an impressive CD catalogue on top-line labels, now lives in Switzerland, teaching at the Basel Music Academy. "It's wonderful to help people," he says. "Ours is a very hard profession and there are lots of challenges to overcome. There's also a selfish motive. I'm enjoying learning about myself in the process, realising the old mistakes that I once made - and am still making sometimes."
Not enough slip-ups to prevent Gringolts winning the Italian Paganini Competition in 1998 and garnering critical praise on both sides of the Atlantic.
This year he played Beethoven with the Louisiana Philharmonic Orchestra and the local critic marvelled at how he stretched notes like a singer, with "coaxing whispers" and "honey bee trills".
Gringolts admits he did not know what to expect when he arrived in New Orleans, but thought the orchestra was fantastic, knowing what it had gone through.
"Its home was flooded during Katrina and it has been playing in a church. Obviously, that isn't ideal, but the musicians have a very enthusiastic young conductor who is doing all he can to keep it going."
Next Thursday, in Auckland, he gives us Mozart's D major Concerto K 218, under English conductor Nicholas Kraemer.
"Eternal youth," is the Russian's first response when I ask about the appeal of the composer. "You can find anything in this music, from humour to a whole range of different emotions."
He even alludes to "hidden treasures", claiming "there's much more to it than what's on the printed page".
Although there is a light-heartedness to Mozart's music, "it is definitely not lightweight", Gringolts stresses.
"This work may not be a masterpiece like some of his piano concertos but it's one of my favourite pieces."
When I first talked to Gringolts, he was a stickler for playing Bach in the appropriate period style, as can be heard in his 2003 Deutsche Grammophon CD of the composer's solo partitas and suites. Mozart needs the same treatment, he says.
"Mozart grows right out of the Baroque and, in a sense, all of the Baroque principles can be applied to his music. The architecture of the music is very similar."
As for cadenzas, Gringolts does his own thing, in the style of those times. "I always try to fill in the blanks if I'm given the chance," he laughs.
"The challenge is to fit into the composer's style without veering away too much. It's a process of learning by doing."
Although his original cadenzas for Beethoven and Brahms are firmly set in place, he's more flexible when it comes to Mozart.
"Sometimes I don't know what it is going to be until I go into the dressing room and put some things together."
We have yet to hear Gringolts play contemporary, although he will be recording the Ligeti and John Adams concerto and has his own cadenza ready for the Hungarian composer's work.
"Slipping into the style of Ligeti is a little more challenging than slipping into the style of Mozart," he explains.
Finally, I can't resist asking the man about his travelling companion, the 1723 Stradivarius, on loan from the Stradivarius Society of Chicago. "There are plenty of violins out there that will give you great sound but a Stradivarius does that with much less effort. You don't have to work very hard to get the colours out. It may not be the most powerful of instruments but I really get the most out of a soft dynamic range, where you can say so much more."


Performance
What: Auckland Philharmonia Orchestra
Where and when: Auckland Town Hall, Thursday at 8pm