Laura Linney gives Helen Barlow the lowdown on her starring role in the movie, Hyde Park on Hudson.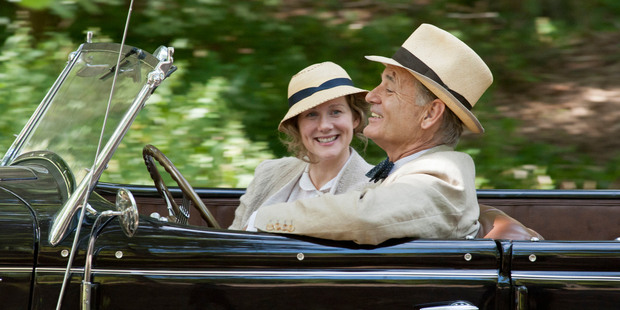 Laura Linney does not consider herself a celebrity, let alone a star. A hard worker who once made seven movies in a single year, she has been nominated for three Oscars, three Tonys and has won three Emmys. Last year she had her first summer off since she was 11.
"That was great," the 49-year-old enthuses, looking casual in white slacks, an open-neck shirt with no high heels in sight. "I swam in lakes, I cooked things, I saw friends and visited my family and my husband's family and threw some children in a lake."
She then completed the fourth and final season of The Big C, an unlikely hit series about a wife and mother dealing with cancer, with sense of humour.
Born in New York City and very much a woman who thrives on the American East Coast, Linney agreed to the series only if it would be filmed in Connecticut. She also agreed to play the little-known Daisy Suckley in Roger Michell's film, Hyde Park on Hudson, which was set in the family home of Franklin D. Roosevelt in upstate New York. Linney knew nothing of the real-life woman who was FDR's fifth cousin, close confidante and also, it seems, his lover.
"I've always been very fascinated by the Roosevelts, by Eleanor and Franklin and by the other women in his life," Linney admits. "Everyone knows about Missy LeHand and Lucy Rutherfurd so this is fairly new information."
Set over a weekend in 1939 when King George VI (Samuel West) and Queen Elizabeth I (Olivia Colman) visited FDR (Bill Murray) and became the first reigning British royals to travel to the US, the story is based on Richard Nelson's radio play, and told through Suckley's eyes. She certainly was part of the inner circle. She was, in fact, so close to Roosevelt that she was the only person who photographed the paraplegic president in a wheelchair, and she was at his bedside when he died. Suckley lived till the age of 100 without breathing a word, though she left a suitcase of letters under her bed.
"She never spoke of the president to anybody," explains Linney. "She didn't find a need to share it or advertise it or be associated with it.
But she didn't destroy the letters so I think she wanted people to read them eventually.
The letters show just how close they were. He told her state secrets; he told her everything and the level of safety that he had with her was unparalleled, I think."
Daisy never married and for around 90 years lived close to Hyde Park, in a town called Rhinebeck. Both houses are now museums.
"I'd been to Hyde Park many times but I'd never been to Daisy's house," Linney notes.
"The curators of that museum were kind enough to let me into her bedroom, which most people are not allowed into. I got to see the letters and it was incredible because every morning she would wake up to a huge portrait of FDR across from her bed."
"The most touching thing about Roosevelt's letters," she says, "was reading about his pooch. While he was president, FDR had a Scotty named Fala who became a celebrity in his own right, the president's dog. He talked about that dog in his political speeches. and it became an iconic figure, so that the Roosevelt memorial in Washington DC has him sitting there, in his big cape, with Fala at his feet. Daisy gave him Fala. So that threw me.
I was startled that she gave him the dog that was so integrated into his entire persona and was with him all the time."
Hyde Park on Hudson is showing now.