Will 'The Host' prove as popular as 'Twilight', asks Michele Manelis.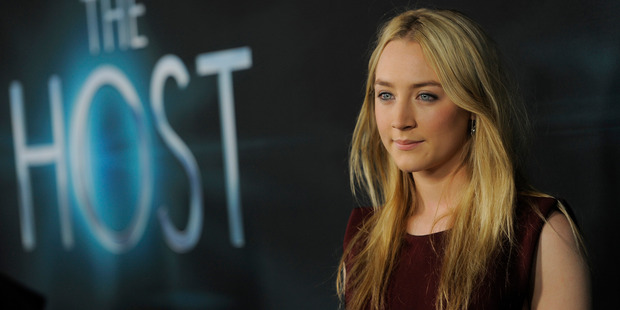 Saoirse Ronan should remember today as one of the very last occasions she'll be able to walk into the Four Seasons Hotel in Beverly Hills largely ignored by the paparazzi outside.
As the 18-year-old heroine of The Host, Stephenie Meyer's latest novel adapted to the screen, her career at this moment is reminiscent of that of another then-unknown actress. In 2008, Kristen Stewart sat down to talk about Twilight, thinking few people would ever see the small indie movie, totally unprepared for what was to come.
Recounting Stewart's ominous words, sitting in the very same hotel five years earlier, she says, "Oh, but that was a real phenomenon. I'd be very surprised if anything like that could happen again. I hope The Host does well, of course, but Twilight was huge; it influenced pop culture. I don't know how I'd react to that kind of attention if it happened to me," she says, her Irish lilt increasing in volume. "I can't even think about it."
Saoirse (which rhymes with inertia) takes out a pot of manuka honey from her handbag.
"I've got a sore throat," she explains. "l found out about this honey from when I filmed The Lovely Bones, in Wellington. It's the best."
An only child, she was born in New York, and the family moved to County Carlow, Ireland, when she was three years old. Her father is Irish actor Paul Ronan (The Tudors) and her mother, Monica, is a homemaker.
Ronan started acting as a young child, and in 2007, after appearing in Atonement, received nominations for an Academy Award, a Golden Globe, and a BAFTA. She followed in a number of films including City of Ember, The Lovely Bones, and The Way Back, for which she won Irish film and Television for an Actress in a Supporting Role. It was her electrifying performance in Hanna, in which she plays an assassin, that assured New Zealand-born director Andrew Niccol she was perfect for The Host.
Worlds away from her Hollywood peers, Ronan is without pretension and acts her age. "I loved Twilight. I really like how clear Stephenie (Meyer) is in her writing and how articulate she is when it came to the feelings of first love and discovering things like that for the first time," she says. "I was Team Edward," she offers, without prompting.
The themes in The Host are more mature than Twilight, although Ronan is very much the object of affection from characters played by Max Irons and Jake Abel.
She says, feigning boredom, "Oh, I was so sick of kissing the boys." She giggles. "There was a lot of kissing, but it was fine. We all got along very well. Actually, I knew both of them vaguely. I met Max on an audition and knew Jake from The Lovely Bones."
How does she feel about the idea of a sequel?
"I don't know. Stephenie is writing the second book now but we'll see if the film does well and if people want to see another one. I'd definitely be up for it but the script would have to be right. I wouldn't be interested in it for the sake of doing a sequel. It has to be a proper story."
When she's not working she enjoys her normal teenage life in Ireland and doesn't appear to be in a hurry to reach adulthood. "I grew up in the country, so I am very used to being outdoors. I am comfortable climbing up trees and things like that. When I am at home I usually just hang out with my friends," she says. Not particularly 'girly,' she says, "I don't really go shopping that much; it stresses me out. I always get a backache when I have been standing around for too long. But I like listening to music, I go to see bands. And I go surfing in the summer," she says. "I'm pretty normal."