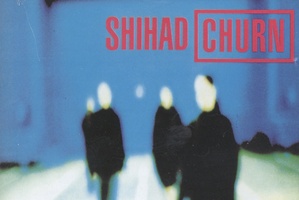 Come Record Store Day next month you might be able to bag yourself a copy of Shihad's debut album Churn on vinyl - and even a copy of local heavyweights Beastwars' soon to be released album, Blood Becomes Fire, on blood red vinyl.
Yes, that's right, blood red. But only if you're quick because limited edition one-offs are the name of the game on Record Store Day.
Those two records - with Churn on vinyl for the very first time - are just two of the exclusives that will be available from Real Groovy on Queen St on April 20.
Also available will be a reissue of the 1975 self-titled album by Auckland soft rock and four-way harmony band Waves, made up of guitarists, Graeme Gash, David Marshall and Kevin Wildman, with Michael Matthew on bass.
Both Waves and Beastwars will play short sets in-store on Record Store Day with Waves at 2pm and Beastwars at 4pm. Shihad open for Black Sabbath at Vector Arena that night.
As is tradition on RSD there will also be a revolving line-up of guest DJs playing at Real Groovy including Labour MP Jacinda Ardern; Business Herald editor Liam Dann who plays some mean yacht rock; and veteran music man and record expert Simon Grigg.
Now in its fifth year, Record Store Day is a world-wide event celebrating all things vinyl - and music in general.
The initiative was started not only to champion independent record shops and their survival, but also as a way of getting music fans back to the bins and buying music. And considering record companies are reporting an increase - albeit a minute one - in sales for the first time in many years, RSD can claim a small victory there.
Though Real Groovy is hosting the biggest bash on the day, other record stores around Auckland are also involved, including Ponsonby Rd stores Conch and Rhythm Records and Compact Discs, and Southbound in Mt Eden, as well as stores throughout the country from the Vinyl Countdown in New Plymouth to Slowboat in Wellington.
Jo Catt, owner of Rhythm in Three Lamps on Ponsonby Rd, says there's a far bigger buzz around this year's event and they plan on having a good selection of exclusive vinyl on offer as well as some bargains in the bins.
"More and more people are buying vinyl - even CD sales are still healthy - and they're buying everything from classic albums from the 60s and 70s through to the back catalogue of [iconic US] labels like SST and Sub Pop, and a lot of new releases," she says.
Over at Southbound, just down from the Powerstation at 69 Mt Eden Rd, you will find some of the best exclusive releases including a reissue of Public Image Ltd's first single, Public Image, from 1978 on seven-inch vinyl that comes in a replica newspaper-style record sleeve.
They will also have limited copies of records by everyone from jazz greats John Coltrane and Miles Davis, through to Captain Beefheart and albums like Mercury Rev's out-takes collection Deserted Songs.
- TimeOut