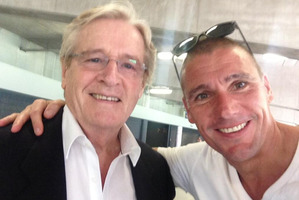 England were facing a humbling series defeat to the Black Caps at Eden Park on Monday, but under fire British actor Bill Roache was all smiles as he posed with the Barmy Army and our Dominic Harvey - despite Coronation Street fans vowing to boycott the show.
The actor, who has played Ken Barlow for 52 years, has been targeted on Facebook and Twitter by fans of the long-running soap who are calling on ITV to axe him.
Outraged fans launched an online iPetition and Facebook page called "Boycott Coronation Street Until Bill Roache is Sacked", and pledged on Twitter to never watch the show again unless he goes.
The backlash came after the 81-year-old's bizarre interview with One News, in which he suggested that child sex abuse victims brought their troubles on themselves by behaving badly in a previous life.
The actor has since apologised for his comments, but fans called the mea culpa a PR stunt.
Producers of the show have declined to wade into the row, but fellow Corrie stars Kym Marsh and Shobna Gukati failed to back Roache when asked about his comments at the Royal Television Society Awards last week.
Roache, who claimed last year to have slept with more than 1000 women and is a member of the Pure Love movement, also said famous men could be "caught in the trap" of sleeping with underage girls and should be "forgiven" even if found guilty.
Tomorrow night, Roache takes to the stage at Auckland's Civic Theatre to perform a two-hour show on Corrie's 50-year history, but with backlash still brewing, he best be prepared for jeers not cheers.
Iridessa joins clan
Forget Suri and Apple. Injured All Black Cory Jane and his wife Amie have adopted the celebrity fad of unique baby names. Iridessa Dakota is their fourth child and joins siblings Prisseis, Cassius and Tennyson. Proud pop posed with the tot this week.
Dagan's departure
Dumping Mark Sainsbury for Seven Sharp was the right decision, says departing TVNZ news boss Ross Dagan. He leaves the state broadcaster tomorrow after a short-lived 11 months at the helm.
"I've got great respect for Sainso, but he was too closely aligned with Close Up," Dagan told The Diary over breakfast yesterday. "People were choosing different options at 7pm. The format had to change."
But change brought critics.
Dagan says that's because people have an entrenched view about what they think TV news and current affairs should be - and a particular vested interest in the state broadcaster.
"It's a reminder that TVNZ is valued by New Zealanders," and critics had "already drawn their own conclusions before the show began".
Perhaps it's only fair Dagan is defensive. Seven Sharp is his baby - one of two things he's most proud of about his tenure (the other is the merging of One News editorial with its online counterpart).
He's disappointed he has "put things into place but won't see their fruition".
He says Seven Sharp has yet to reach its full potential and there's still "room for improvement", but won't clarify what changes need to be made.
"Audience numbers are broadly the same as Close Up last year, but they'll grow," he says.
Dagan refutes suggestions that editorial decisions on the show, and in the newsroom, have been swayed by other departments in the company, including marketing and programming.
"It's simply not true. Like any content business, there's various views and opinions. Everyone has a right to have their say, but I've not been influenced."
He'll miss his family in New Zealand - a brother in Whangarei and three nieces - and he'll miss Northland's Martin's Bay. He's moving back to Brisbane to run the newsroom at Channel Seven, which, he contends is "a much a dirtier fight".
"I won't say it's more competitive in Oz, because TV3 are very competitive, but the tactics are more questionable. It's a win-at-all-cost scenario, and I prefer to fight fair."
He didn't make the decision to leave TVNZ lightly. "I reached a juncture in my life - and I picked family."
He won't discuss who will replace him, but predicts it'll be a Kiwi. Insiders say Mark Jennings, who's been at TV3 for 24 years, turned down the offer after discussions with TVNZ. Dagan won't comment.
Dagan leaves the post with friendships intact but targets incomplete.
Asked what he's learned about his time here, he struggles to answer, and later emails: "Keep one ear on your critics, but one eye on your future goal and stick to it."
Look out Kim Hill
Jeremy Wells and former bFM colleague Steve Simpson will host a two-hour Saturday morning show on Radio Hauraki from April 6, and the father-of-two told The Diary he's determined to beat Radio New Zealand's Kim Hill in that timeslot.
"Yeah, we definitely have Hill in our sights. You have to knock off the people at the top first. It's Hill, then [Jack] Tame, then that gardening guy on RadioLive," he chortled.
Details of the show are still being ironed out, but a regular review on small household appliances is on the cards.
But ask Wells if he wants to be the next big broadcasting star and the radio host, Herald columnist and sometime TV current affairs reporter plays coy. He reckons Mike Hosking won't be shaking in his Gucci loafers.
"I don't think Hosking has anything to fear. He won't be driving his Maserati and looking out the rear-view mirror for my Toyota Camry."