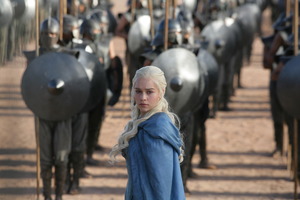 Pick of the week: Game Of Thrones
It's going to be a fiery third season of Game of Thrones, especially because the dragons of Daenerys Targaryen (played by Emilia Clarke) are now bigger, more deadly, and breathing monstrous flames.
Her fire-breathing mates should help with her plans to amass an army of slaves to sail across the Narrow Sea from Essos to overthrow the Iron Throne.
In the land of Westeros the power struggle centres on King's Landing, where the Lannisters only just clung to power after an onslaught from Stannis Baratheon (the brother of late King Robert).
In the battle for the north, Mance Rayder (played by Ciaran Hinds) and his army of Wildlings continue their march to the Wall and threaten the balance of power in Westeros.
With all that going on this series looks set for more ruthless betrayals and bloody treachery, and, rumour has it that many of the major characters will meet cruel fates.
One who wouldn't be missed is that jumped-up prat Joffrey Baratheon (Jack Gleeson) who will, hopefully, get what's coming to him because of his ruthless, power-hungry reign.
His smug and calculating mum, Cersei Lannister (Lena Headey), also needs some sort of comeuppance for her conniving ways.
By way of a quick recap, at the end of season two Tyrion Lannister (the constantly plotting imp, played by Peter Dinklage) was removed as Hand of the King following the arrival of his father, Lord Tywin. Night's Watch recruit Jon Snow (Ned Stark's bastard son) went under cover as a Wildling, and the White Walkers - easily the most scary things on TV at present - descended on the Fist of the First Men, a landmark north of the Wall.
The first episode of the latest season, adapted mostly from George R.R. Martin's A Storm of Swords, the third book of his A Song of Ice and Fire series, picks up with Snow being brought before head Wildling Rayder (the King Beyond the Wall).
In King's Landing Tyrion is determined to reign supreme despite being on the outer; Cersei hosts a dinner for the royal family, no doubt with a motive; and Littlefinger (aka Petyr Baelish, played by Aidan Gillen) offers Sansa a way out from her virtual imprisonment.
Possibly under the most pressure is Robb Stark, the King of the North, who is desperate to build on his victories against the Lannisters but, in one of season three's preview trailers, says: "I have won every battle but I am losing this war". Most worrying, but sure to make great viewing, is the coming of the White Walkers from beyond The Wall.
This season of Game of Thrones screens in New Zealand just hours after it premieres overseas with encore screenings every Sunday from April 7 at 9.30pm.
When: Monday, 8.30pm
Where: SoHo
What: The saga continues
Cooking pick: Masterchef Masterclass
It's time to start taking notes with the return of this MasterChef spin-off where judges Josh Emett, Simon Gault, Ray McVinnie and guest chefs cook up a storm, although given some of the fancy ingredients they use sometimes you might not be too keen to get your wallet out at the supermarket.
Speaking of exclusive, this week's first episode sees the Top 11 contestants travel to the Kauri Cliffs resort in Northland for a master class - and hopefully a spot of golf.
Gault begins the array of fine food with Venetian-style sweet and sour marinated blue cod with an onion, raisin and pine nut sauce; the resort's executive chef, Dale Gartland, serves a five-star duck breast dish with confit duck leg, asparagus and mushrooms; and Emett is in charge of dessert: an apple crumble with cinnamon doughnuts.
When: 7.30pm, Saturday
Where: TV One
What: Free lessons
Youth pick: U Late
Aren't high-school kids meant to get a decent night's sleep so they can concentrate in class?
Oh well, since when have the kids ever bothered too much about following rules?
And with TVNZ's youth-focused channel's latest venture, hosts Tim Lambourne and Guy Montgomery don't plan on playing by the rules much in this late-night interactive chat show.
Screening every week night, the show features cheeky late-night antics, discussions about what's hot or not, and live polls via the the U Facebook app.
Lambourne says: "It will feature special guests, live viewer chat and heaps of lols.
"We'll be in your lounge - not in a creepy way - from April 1.
"This is not an April Fools' joke."
When: Weekdays, 10.30pm (starts Monday)
Where: U
What: Interactive chat TV for yoof
Reality pick: Saving Gen-Y
This new series follows the lives of eight young New Zealanders over the course of a year as they try to kick their food addiction habit, lose weight and improve their quality of life.
We meet people who include 16-year-old high-school student Danielle who, at 162kg, wants to lose weight to improve her self-confidence. Then there are the Ruatara sisters, Sheyne and Tracey, who weigh 134kg and 150kg, and 177kg Ash, who thinks he knows best, even when it comes to his health. But if he wants to fulfil his dream of joining the navy he needs to start listening to the show's experts, sports psychologist Dr Ihirangi Heke and nutritionist Claire Turnbull.
Their goal is to help these young people address their emotional, physical and behavioural traits, and realise they need to make a change.
When: Saturday, 8pm
Where: TV3
What: Fat-busting teens
Food pick: Marco's Great British Feast
Marco Pierre White is not quite as renowned for being as potty-mouthed and hardcore in the kitchen as Gordon Ramsay. Nevertheless the British celebrity chef knows how to call a spatula a spatula.
But he's taking a break from terrorising wannabe chefs and wants to get back to his roots by creating an all-British menu using only British ingredients. In this cooking show he finds inspiration by travelling throughout Britain in search of its finest food, cooking it up and testing it on the public ahead of his grand finale - a feast for 200 people.
In the first episode, he goes fishing for herring (which he dishes up with a beetroot salad), goes pigeon shooting in Sussex, and visits a farm specialising in one of Britain's oldest pig breeds, the Tamworth, which inspires a ham and celeriac salad.
When: Thursday, 7.30pm
Where: Prime
What: Best of British grub
- TimeOut