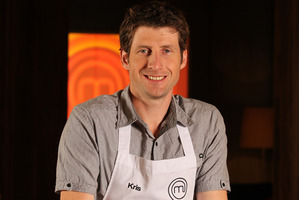 If Kris Williams didn't mess up his paper work, he would have won the fish challenge, picked his cut of pork and cooked his way in to the MasterChef New Zealand top 10.
That's what the Matakana-based builder reckons.
The first hurdle to make the top 10 seemed right up the seafood buff's alley - write down the correct name of the 10 New Zealand fish in front of you. They're all numbered. You have a minute.
Half way in, Kris realised he'd had a blow-out - he'd named the fish in the wrong order. He tried his best to sort out the mess, but there was no time left.
"If I hadn't have stuffed up I would have got nine and won the challenge and got to pick my cut of meat and safely gone through," he said.
Kris said he named nine out of the 10 fish and blamed his poor penmanship on being too tired from the hectic filming schedule.
The winner on the day - the undefeated "culinary rockstar" Aaron - correctly picked just six.
Fellow contestant Vanessa said what everyone was thinking: "Of course it's Aaron."
"I'm annoyed because I would have easily won the challenge, but that's the game we play," Kris said.
Aaron won the privilege of dishing out the nose-to-tail portions of a pig for cooking. It seemed like a potentially vindictive task, but the yoga dad divvied up the animal, pouring praise on his fellow contenders as he did so.
Kris was given a pork loin to prepare. He served up two dishes - spicy pork balls with cucumber and chilli oil and a grilled pork steak with beans, kumera and potato puree.
When time was up, Kris knew he should have made more time for cleaning up his plate and he blamed this on emotional wreck, Vanessa, operating on the bench beside him.
Judge Josh Emett looked at what Kris presented and said: "That's one of the dirtiest plates I've ever seen," reminding him that it was messy presentation which almost sent Vanessa packing the week before.
"I knew I was gonna get grilled, but what can you do? Just man up and take it," Kris said.
Emett was harsh, saying Kris didn't show any signs of improving.
"If I was to look at this I would say this person doesn't know what they're doing," he said.
Fellow judge Ray McVinnie said Kris' dishes were "under-flavoured, under-seasoned, underwhelming.
"This is another example of, 'Your tea's on the table' - the plain cooking done in the 50s or something.
Josh Emett went on: "There's nothing left in the tank with Kris I don't think."
And McVinnie finished him off: "Running on empty".
As a viewer of previous MasterChef seasons, Kris always thought it looked like a pretty easy task.
"But when you're on the show with the pressure that's on you ... I probably never cooked as bad as I have in my life."
* MasterChef New Zealand screens on TV One on Sunday nights. www.nzherald.co.nz will interview every contestant as they are eliminated.
- www.nzherald.co.nz