New material shines amid lovingly rendered gems from troubador's rich catalogue.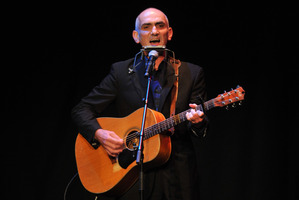 Few of the 1000-plus who packed the house for the final show of Paul Kelly's main-centre tour would have been familiar with his latest album, Spring and Fall. No matter.
The prince of Australian troubadour poets brought them up to speed by devoting the first half of his 25-song set to playing the entire album.
His first studio work since '07, it's a "song cycle" of 11 connected episodes in a relationship, which takes us from "our first new year" to "I'm none of your business now" in 37 minutes, with a typical combination of winning melodies and pungent lyricism.
Compositionally, it's his most assured work in two decades, full of hope, sadness and what he calls "little aches and pains", and, dense with resonant references, including to Gerard Manley Hopkins and John Donne, it was deeply satisfying as a concert performance.
But Kelly wasn't going to deny the audience appetite for the back catalogue.
Accompanied only by his nephew Dan Kelly, whose guitars provided, as required, delicate filigrees or growling substrates of sound, he ranged deeply and widely across the years.
The emphasis was on love songs - When I First Met Your Ma got a particularly moving treatment - but classics like Before Too Long (aptly dedicated to his late, great guitarist Steve Connolly) and the grunty Dumb Things also had good airings.
Neil Finn, with whom Kelly did an Australian tour last year, dropped in for a bracket, including reciprocal covers, though neither Kelly's Into Temptation nor Finn's You Can Put Your Shoes Under My Bed is a patch on its original and Finn's piano on a few extra numbers subtracted more than it contributed.
But, with the possible exception of choosing the interminable Bradman as an encore, the Kellys (senior and junior) didn't put a foot wrong.
The cathedral made a fine setting both for the main act and for the support, local songstress Lydia Cole, who exuded an unaffected charm in a set that showed off her plangent voice and precise picking.
Concert
Who: Paul Kelly
Where: Holy Trinity Cathedral
When: Saturday evening