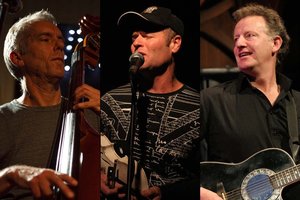 The National Jazz Festival in Tauranga is in its 51st year (making it the oldest jazz festival in the Southern Hemisphere) and the Waiheke Jazz Festival has been running for a good couple of decades in different guises.
But both Easter events have had a change of directors and a shift in focus - they're less about large numbers of marquee international acts and more about offering a wide range of music and events at affordable prices.
John Quigley, of jazz stalwarts the Nairobi Trio, has been at the helm of the Waiheke Jazz Festival for three years.
"When I brought the festival back to life in 2011 - because it had been dormant for a little while - I turned my attention back to that initial concept, that it was held all around Waiheke, which is a beautiful, colourful place."
The festival will take place in venues at Matiatia, Palm Beach and Rangihoua Estate in Rocky Bay. Quigley finds the venues and locations are strong parts of the festival's appeal.
"Rangihoua is a natural amphitheatre in an olive estate, it's absolutely beautiful, and it's nice to be able to showcase different parts of the island, matching the right venue with the right act."
This will be the second year the Good Friday Groove has been held at Rangihoua; it's a day-long show emphasising contemporary local acts who aren't necessarily traditional jazz: Sola Rosa headlined last year and this time it's Iva Lamkum.
"I wanted to get some younger folks in there and broaden it out, so this was a chance to do that a bit separate from the rest of the festival - and it's very family friendly, too."
Tauranga is also encouraging a family friendly vibe, explains new festival director Rebecca Chambers.
"We're offering premium jazz experiences with concerts and entertainment to cover wide musical tastes, but we're all about fostering youth jazz, too.
"Young players are the lifeblood of future festivals so, as well as hosting the 33rd National Youth Jazz Competition, we have the new Baby Jazz series for children, too."
The concert settings are also important to Chambers.
"Our audience members want to experience great music in wonderful spaces, so we offer many events outdoors on the Strand and at the Jazz Village. Tauranga is blessed with beautiful scenery and great weather so these things make our festival unique."
The ticket prices at both are being kept down with Waiheke having a top ticket price of $39 and Tauranga keeping them all under $50. Children under 12 are welcome, free of charge, at various events.
Tauranga also has the free Downtown Carnival and although international acts are involved, there's also a greater emphasis on local talent.
The organisers don't see any problem either with having two jazz festivals over Easter - they're happy jazz is being promoted so widely and enjoying the opportunity to potentially share international artists such as acclaimed Kiwi saxophonist Nathan Haines, who's returning from London to perform at both.
"The festivals are in two separate regions and offer different experiences. There can be logistical issues with musicians playing at both but, overall, the synergies work well," says Chambers.
"I've never felt that we're in competition," Quigley explains.
"Tauranga is a much bigger event, and I guess ours is a little more Waiheke-style."


Lowdown
What: Waiheke Jazz Festival
Where and when: Easter weekend (March 29 to 31) at various venues on Waiheke Island
Who: The Good Friday Groove festival will feature local contemporary musicians Iva Lamkum, Darren Watson, Arli Liberman, Bella Kalolo and Five Mile Town at Rangihoua Estate. Jazzabout Day Passes, available for Saturday and Sunday, let you visit three venues round the island with different acts at each.Then there's the Evening Concert Series on Friday and Saturday nights with Nathan Haines, Peter Urlich, Dixieland Gypsy Band, Hetty Kate, The Nukes and Nairobi Trio and, if you're still buzzing after the show, there's the Late Night Supper Club, with bands jamming from 11pm until 2am.Plus this year there's an intimate musical theatre experience, too. The Sixpence Brothers is the world premiere of a new musical by Ash Abram, the music guru behind NOW Records (UK).
What: National Jazz Festival
Where and when: Easter weekend (March 28 to April 1) at various venues in Tauranga
Who: There are wide-ranging options with an evening concert series featuring the Sons of Sinatra, Nathan Haines, Jennine Bailey and a selection of big bands.Then there's a late evening jazz cafe series, featuring Richard Adams and Nigel Gavin, Kevin Field, Downhome Blues Revue, Miho Wada and Hurricane Party; and an early evening series at the Trinity Wharf Jazz Club with Phil Broadhurst and guests. The Jazz Village will be in full swing Sunday and Monday, and the free Downtown Carnival runs on Saturday and Sunday afternoon. The National Youth Jazz Competition also runs throughout Saturday and Sunday, and the Rianz Jazz Album of the Year award will be presented.