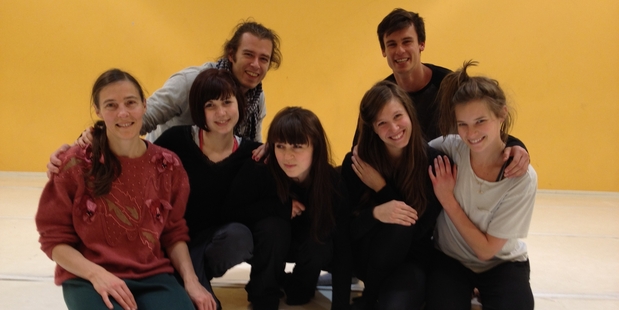 Lisa Densem calls her work "the choreography of discovery".
"It is not about deciding beforehand what the meaning will be," she says, "it's an exploration of atmospheres, energies and vibrations; an experience of movement, space, the body and presence."
Densem is back in New Zealand, after more than a decade abroad, for Footnote Dance's Forte season, in which a different expatriate New Zealand dance artist of renown is invited to create a work.
We Have Been There (Cloud in Hand) began with Densem alone in her studio for a week, experiencing and exploring the simple raising of an arm.
"The movement that interests me," she explains, "is the movement that happens when you move through the front brain, beyond the ego and the personality. Then something happens to the way you perceive yourself, and the world."
That "something" is tangible to audiences too, she says - when it happens.
Work with the Footnote dancers began last year, in Berlin, where Densem is now based, and continued with six weeks over the summer in the company's Wellington studios.
"We began with strategies to precipitate awareness," she says, "to move through the front brain. One of the ways to do that is through meditation and breathing techniques, but with Footnote we began with an exercise where the dancers were attached, through maintaining a touch point, to another person."
At first, their response was one of boredom and complaining there was nothing they could do. "But after a while," she says, "the body finds a whole world in there."
She also used a technique where pairs took turns to move a collection of small items in front of them, in "a choreography of objects", which later developed into physical movements, in which the body and the self were also moved as objects.
"It creates another sort of awareness," Densem says, "another consciousness."
Out of these strategies came a mass of material including lots of solos, edited and pulled together by Densem "in a very roundabout process".
"When you put things together, it starts to have a meaning," she says. "The work is extremely demanding of the dancers. The hardest for me was to do the dramaturgy of the whole thing."
Her artistic aim is for audiences to perceive the "magic" of movement that wells up from a different part of human experience.
"The biggest problem with all live performance is that the energy does change from night to night. It might be brilliant one night, mediocre the next. That fluctuation is more pronounced in this kind of work. But the piece is not completely dependant on going into a higher state."
On opening night in Wellington earlier this month the dancers were terrified, Densem says. "The performance went very well but they were not completely in the zone. The second night, they were and it was fantastic. They came out very strongly - not as who they think they are but who they really are. There was flow and great presence."
Lisa Densem grew up in Christchurch, trained at the New Zealand School of Dance in 1985-86 and went on to dance with choreographers Douglas Wright and Michael Parmenter and to eventually create her own work. In 1998 she received a Creative New Zealand scholarship to study in New York. Her quest for a movement style that was not centred on the virtuosic and intensely physical quickly led her to German dance company Sasha Waltz and Guests where she remained until 2004. She now works as a freelance dancer and teacher.
This is her second Footnote Forte season. She created No Such Place in 2005.

Performance
What: We Have Been There, with Footnote Dance
Where and when: Q Theatre, March 27-28 at 8pm