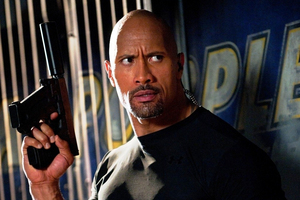 Dwayne "The Rock" Johnson is 1.93cm tall, weighs as much as a family car, is a professional wrestler worshipped by millions of fans and the leader of Hollywood's new generation of action heroes.
So, when this man-mountain confesses to playing with Barbie dolls, well, that's a revelation.
It's also hard to picture.
"Barbie?" Johnson, a twinkle in his eye, replies when asked if he played with Barbie dolls as a kid. "Once in a while, but I can't tell you that."
Johnson has roared into Las Vegas to promote his new action film, G.I. Joe: Retaliation, in which he plays Roadblock, a heavy weapons expert comfortable walking into combat carrying M2 Browning machine guns as if they were small pistols.
The 40-year-old was not in 2009's G.I. Joe: The Rise of Cobra, but as a lifelong fan of G.I. Joe action figures, he was ready to break down any door in Hollywood to score a role in the sequel, which also stars Bruce Willis and Channing Tatum and features characters including Snake Eyes (Ray Park), Lady Jaye (Adrianne Palicki), Firefly (Ray Stevenson) and Storm Shadow (Byung-hun Lee).
Johnson says that during his childhood - part of which he spent in Auckland - he was obsessed with G.I. Joe action figures (and maybe the odd Barbie here and there).
"I played with my G.I. Joe and Star Wars action figures every day," he says. "They mingled. I was always creating scenarios with them, so looking back, they were very important to me. The cool, emotional connectivity to all that, with me coming full circle by starring in this movie, is a very cool thing."
In G.I. Joe: Retaliation, the villain Zartan throws the world into chaos when he almost wipes out the G.I. Joes, secretly kidnaps the US President and impersonates the leader of the free world.
Roadblock, Lady Jaye and Flint are the only G.I. Joes to survive a desert ambush and call on the original Joe, retired General Joseph Colton, played by Willis, to help save the world from Zartan and his Cobra organisation.
"He's something else," Johnson says of Willis. "I've been buddies with Bruce for a while. Even before we were buddies, as a fan of movies and as a fan of action heroes.
"He's been one of the world's biggest movie stars for a long time so us together, in this movie, guns in our hands, saving the world as G.I. Joes, it is cool."
When Johnson began the transition from professional wrestling star to Hollywood actor in 2001 with the role of the Scorpion King in The Mummy Returns, he was viewed as Hollywood's next big action hero, a guy with an established devout young male fanbase who could replace the aging Willis, Sylvester Stallone and Arnold Schwarzenegger.
Johnson has lived up to the expectations, starring in The Scorpion King, Doom, Walking Tall and Fast Five.
Instead of being jealous of the younger Johnson, Willis, Stallone and Schwarzenegger were supportive.
"It was 10 or 12 years ago, when I first started acting and got into the business with The Mummy Returns and Scorpion King, I became buddies with Bruce," Johnson said.
Johnson, as with his history with Barbie dolls, is not keen to divulge too much about his conversations with Willis and other superstars, but he does quote one sliver of action hero advice handed over.
"Bruce said 'Enjoy it. Have fun'," Johnson said.
Movie preview
Who: Dwayne "The Rock" Johnson in G.I. Joe: Retaliation
When: Opens Thursday
- AAP