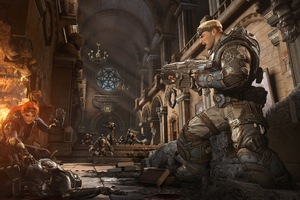 Did we really need another Gears of War?
That is the question I had when I first learned about Judgment, a prequel set immediately after all hell broke loose on Emergence Day, several years prior to the first Gears. The original series was a bit too boneheaded for my liking - it was full of action but sat too awkwardly on the line between gravitas and kicking ass.
Judgment finds that line and walks it perfectly.
Marcus Fenix, the series icon voiced by animation legend John DiMaggio, is almost entirely absent from this title. Your heroes this time are the soldiers of Kilo Squad, including younger incarnations of Damon Baird and the "Cole Train," and they've been breaking rules to save lives. Admirable, yes, but a no-no in this military.
The game begins as the four members of Kilo are forcibly led into a damaged hall - inconveniently located in a live fire zone - to stand before a military tribunal led by a doggedly officious man who, dismissive of the violence unfolding outside, is determined to find out how our heroes came to be arrested as war criminals.
Each playable mission is a flashback, delivered as testimony, walking you through the whys and wherefores of their actions, middle-fingers to authority, and their ultimate arrest. It's a well-executed, captivating storytelling device.
The action is fast and fluid, and the enemy intelligence is too. The game will keep you guessing by altering the opposition in response to your own playing style. I don't particularly enjoy cover-based combat and it felt like the engine knew it, and tested me accordingly. If I wanted to run riot with a Lancer and chainsaw enemies to their pulpy deaths, I could - just not all the time.
The downside of such an approach, of course, is that I'd be injured in action with fair frequency - as many as three times in each combat situation. I realise I put a strain on Kilo's health services, but the AI-controlled teammates were as likely to let me die where I fell than they were to revive me. The same was true of enemies though - too many times I was left to crawl away when I should have been summarily executed.
An inspired touch is the inclusion of "declassified" sub-missions, which, if activated, alter your testimony and the corresponding gameplay. Enemies may grow stronger, ammo may decrease, and missions may become time-dependent. The payoff is an increased rate in point-scoring for status and upgrades which will carry across all game modes.
The multiplayer, for what it's worth, is a total hoot and adds serious weight to a game already brimming with replay value.
So, did we really need another Gears of War? It seems that we did, and the hat goes off to Epic and People Can Fly. An immature but immensely respectable Baird and his less-than-unified comrades lead us, blow-by-visceral-blow, through the most mature Gears experience yet. The AI glitches are a minor irritant in the long run, and the clever storytelling and the grub-crushing action are top class. This is a success on almost every level.
Stars: 4.5/5
Platform: Xbox 360
Rated: R16
- TimeOut