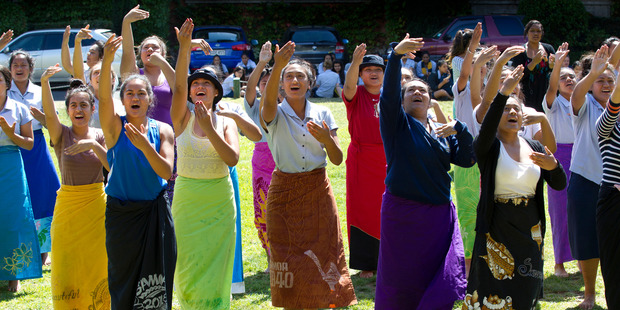 Students competing at this week's annual PolyFest have endured months of hard practice and sacrificed their lunch times and weekends to perfect dance routines.
Around 9000 secondary school pupils from around Auckland are competing at this year's event, sponsored by ASB.
The event started on Wednesday, with the Maori stage and Diversity stage - including Indian, Korean, Chinese, Thai, Indian and Sri Lankan groups - performing.
But traffic gridlocks have already begun as between 90,000 to 100,000 spectators descend on the Manukau Sports Bowl.
The main competition started on Thursday, when the Tongan, Niuean, Samoan and Cook Island stages opened. Today is the final day of performance and the most popular.
Among the 200 cultural groups performing is the Auckland Girls' Grammar School Samoan Group; always a favourite on the Samoan Stage.
With only 60 performers allowed on stage and four support people, the school had to hold auditions after nearly 150 girls applied to join.
Teacher in charge, Lafitaga Peters, said the group was a popular one at the school and had enjoyed a number of wins at the PolyFest in past years.
Ms Peters said for students, it was a chance to show their cultural pride through song and dance and many pupils took the competition very seriously.
"We had 145 students trial to get into the group this year. Girls whose older family members, or siblings who've been in the group, or involved in PolyFest in the past, feel the sense of continuing the legacy.
"There is a strong school spirit that the PolyFest competition evokes and this is another motivation for the girls. Most importantly, it is a chance to show cultural pride and skillmanship, creativity and flair through cultural performance and language."
Each stage awards different prizes according to various factors such as the type of dance, theme and difficulty. Schools are categorised according to their being a single-sex or co-ed institution.
Auckland Girls student leader Vaeata Tuaimalo said being part of a performing group was a privilege, as only "the best of the best"were chosen.
"This weekend is huge for us and yes, we are all feeling nervous and scared, but i know that whatever the outcome may be on Saturday, our girls will have their heads held high no matter what."
Hanalei Temese said the past few weeks had been tough; comparing a traditional fast-paced sit-down clap dance, the sasa, to a fitness work out.
"The sasa for 2013 is equivalent to CrossFit! It literally gets you sweating and puffing by the end of it.
"It's tough and takes a lot of hard work to get the group into the best shape possible. But when you're on stage performing for that 20 minute period, it feels like everything has paid off!"
Ms Peters said the PolyFest, although very much about dance and performance, was more than that.
"Students get to experience more than just learning the language and dance.
"They get to experience and are exposed to Samoan values and culture and protocol through the different customs that are practiced every time they are together."
PolyFest 2013
* Today, starting 8am
* Manukau Sports Bowl, Te Irirangi Drive.
* Cost: $5 entry, preschoolers free.
* Food stalls available.
* Don't forget: Hat, water bottle.