SS Puke, our smallest, oldest steam tug, leads the charge in tonight's White Night, an action-packed, citywide programme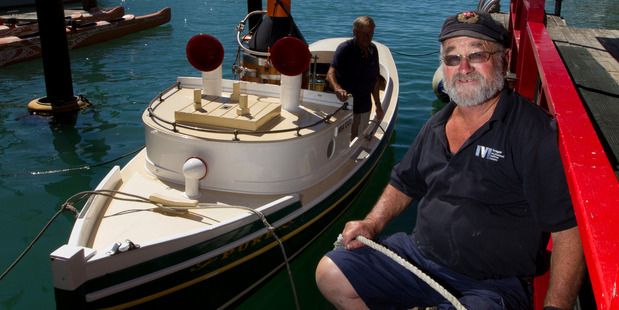 If you're eating at Auckland's Voyager Maritime Museum waterside cafe this evening, try not to choke when SS Puke, the oldest, smallest steam tug in the country, chugs out into the harbour. Puke may be tiny but her horn packs a punch and her master, Alistair Sinclair, likes to play a joke.
"Some of the kids are fascinated by Puke but some are frightened," he explains. "When you blow the whistle they either open their mouths and scream or wet themselves. There was one kid who didn't want to come on board with mum. So I said to the engineer, 'Look, we'll grab this kid', and we did and I said to this little girl, 'See how many people in that restaurant you can make jump so pull the cord', and 90 per cent of them jumped. She relaxed after that."
Sinclair, 69, of Papakura, is taking groups of five around the Viaduct as part of tonight's Auckland Arts Festival White Night programme. Galleries, the central library, Auckland Museum and various outdoor venues throughout the city are mounting events until midnight. The 7.9m long, 140-year-old boat is a worthy addition to White Night because she is, according to her master, a work of art.
"She's as good as gold for Saturday," he says. "She's beautiful. She is very good to handle as long as you have people on board. Without any passengers she is a bit sluggish."
Puke has had a busy life. Built of kauri in Kaipara in the 1870s, she was salvaged from the Tamaki River in 1977 and sent to work hauling logs along the Waihau and Ohinemau Rivers from Paeroa. She was sent to Brisbane for six months in 1988 for the World Expo, then returned to Auckland where the Union Steamship Company gifted her to the Maritime Museum in 1989. Puke was fully restored in Warkworth and painted in union colours - green and yellow - before being sailed to Auckland via the Mahurangi River.
Sinclair, who has been sailing Puke as a volunteer for eight years, credits engineers Michael Gordon and Willem Stortelers for her maintenance, especially her 4hp engine. "She requires continuous maintenance, tweaking here and tweaking there. We stoke her up with coal and wood, mainly wood these days because of the smoke and the restaurant, but once we are out there we get into the coal. We have a few people now and again complain because of the smoke but it's a working museum and do you complain when you're walking up Queen St because of the fumes?"
Tonight, if the tide is right, Sinclair will be taking Puke under the Viaduct walkway bridge. Beware. "If we go under the walkway we blow the whistle. I felt real guilt," he says, unconvincingly, because he is laughing. "Once we went under a woman who had just stopped the baby crying. We blew the whistle and away she went again."
The museum's White Night lineup also features "glow in the dark" camera activities, sea shanties with the Complaints Choir (who are popping up all over town), bedtime tales for kids who can wear their PJs and a talk on the Kupe Sites exhibition with photographer Mark Adams.
As well as Puke, the scow Ted Ashby will take trips around the harbour from 5-6pm ($24 adult, $14 child, with fish'n'chips) and the tall ship Breeze offers a sparkling perspective of night-time Auckland from the harbour between 8.30am and 10.30pm ($35); see maritimemuseum.co.nz.

Auckland Arts Festival White Night
What: SS Puke steamings
Where and when: Voyager Maritime Museum marina today, 4-7pm; adults $2, children $1