Eleanor Tomlinson had to work hard to win her role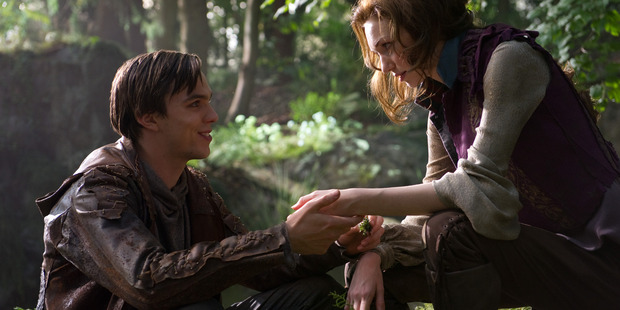 Like many young girls, Eleanor Tomlinson dreamed of being swept off her feet by a handsome prince . Now the 20-year-old Londoner is playing mythical monarch-to-be Princess Isabelle in Bryan Singer's lavish 3D blockbuster, Jack the Giant Slayer, which features rising star of the moment Nicholas Hoult as the titular beanstalk-climbing farmhand.
As preparation for the role, Tomlinson studied the experiences of a recent real-life royal.
"I looked at what has happened to Kate Middleton," she says. "She's followed around by paparazzi all the time and has no privacy. She can't even walk out the door without security ensuring that nothing is going to go wrong."
Promised to Stanley Tucci's villainous Lord Roderick, Isabelle has taken to sneaking incognito out of the palace, which is how she first encounters Jack, who comes to her rescue after she is confronted by a group of thugs.
"She's followed around by these guardians and, even if one of them is Ewan McGregor, it's trapping for her," says Tomlinson, referring to the dashing Elmont, who is played by the Trainspotting star. "She finds it infuriating as one of the things her late mother said to her was 'you must go off and have your own adventures and experience life in order to be a good queen'."
Tomlinson hails from an acting family, her father is a seasoned performer who has appeared in numerous British soap operas including Eastenders and Emmerdale, however, she was initially discouraged from choosing to tread the boards for a career. "My mother and brother are also actors so they knew how competitive and heartbreaking it can be," she says. "But once they saw that I was very serious about it and was starting to take the knocks when you don't get the parts and have to deal with not working, they realised that I actually did have what it takes to see it through."
Having played young Sophie alongside Edward Norton in 2006's The Illusionist when she was just 14, Tomlinson appeared briefly as Alice's teenage rival Fiona Chataway in Tim Burton's Alice in Wonderland in 2011. Jack the Giant Slayer represents her big breakthrough, although she had to endure seven auditions until it was finally confirmed she had the part.
"I actually did the read-through having not been offered it, which is very rare and scary," she recalls. "It was a really long process, spanning several months and because the news was coming from California, I knew that I probably wouldn't get a phone call about it until after midnight, so I spent a whole week of not sleeping and just constantly checking my phone all night. But it was really fantastic when I did get it, I was with my mum and I just collapsed in screams and tears."
Filmed primarily in the British countryside, Tomlinson's only disappointment is that she didn't get to travel to Wellington, where the opening prologue featuring young Isabelle and Jack's respective parents reading them bedtime tales was shot at Peter Jackson's studios. "They did that right at the end and I didn't even know that it was done in New Zealand until I saw the film," she laughs ruefully. "I was like 'what do you mean? That's crazy! I want to go to New Zealand!' But I didn't get to go." "We did it around the same time of The Hobbit premiere," adds director Singer "so we got to go to the parties and see the film. Peter gave me the best seats in the house, so it was great experience. He also visited my little pick-up shoot barefoot and I thought 'who walks around a sound-stage barefoot?' 'Oh, the owner of the soundstage!"
Jack the Giant Slayer opens on Thursday.