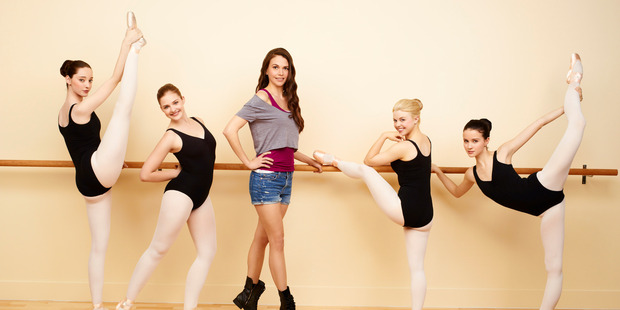 Pick of the week: Bunheads
Ballerinas are normally seen and not heard - so comedy and classical ballet do not naturally go hand in hand. But in her latest outing, Bunheads, writer-producer Amy Sherman-Palladino (Gilmore Girls) successfully marries the discipline and Black Swan intensity of dance with her trademark verbose Gilmore-esque wit.
The show follows the lives of four teenage ballet students and their dance-school mistress, Fanny Flowers (played by Gilmore Girls actress Kelly Bishop), whose lives are shaken up when failed Broadway dancer-turned-Vegas showgirl, Michelle (Broadway star Sutton Foster) moves to their small seaside town.
It explores what happens when dancers let their hair down from their tight bunhead hairdos - and it's funny and more sophisticated than its Saturday afternoon timeslot suggests. At one point a character is described as having "serious driving-cross-country-in-diapers-to-kill-you potential"- the kind of dry reference that might grande jete over the heads of younger viewers.
Sherman-Palladino knows what she's talking about when it comes to ballerinas. A former dancer who studied classical ballet throughout her teens, she even owned a Snoopy leotard like the one the Boo character wears in episode one.
"Dancing is not light and lovely and lady-like - it's tough. I think everybody thinks they're the Sugar Plum Fairy, and that they walk around and everything's pink in their house. These are people who could kick down a wall if they need to," says Sherman-Palladino, who hung up her own pointe shoes to work as a writer on Roseanne in the 90s.
"I remember the day that I was sitting in the writers' room and it occurred to me, I never have to put on toe shoes again. And it was like, 'drinks are on me'. But the dancing is what formed me."
Foster brings a quirky wit to the dancefloor. She's a big deal on Broadway (two Tonys), but Flight of the Conchords fans might know her as Bret's sign-holding girlfriend, Coco. "They were awesome," says Foster of Bret McKenzie and Jemaine Clement. "That was my first real TV experience and they were so great. They were wonderful guys to work with."
Finding the rest of the cast was difficult. The teen stars had to not only act, but also be able to dance ballet en pointe. The Boo character, a big-boned girl who struggles with her size in dancing, is loosely based on the producer's own experiences, and she says it was challenging to find a girl to fit the plus-sized part.
"She needed to be that great dancer, but with the wrong body type - you needed to find somebody who had that, but had a rock-star technique," she says.
Twenty-year-old Kaitlyn Jenkins landed the role, and says her experiences mirror those of her character.
"I feel very passionately about this role, because I did struggle with my size - and when you grow up with that mentality, it can really tear away at you."
Still she didn't let it curb her passion for dance. "But there's something magic about ballet. It's beautiful and graceful and you get to wear tutus and crowns, and it takes hours of work and dedication, countless hours to create a simple movement."
- Emma Rawson
When: Saturday, 3pm
Where: TV2
What: Ballerinas let their hair down
Doco pick: Behind the Brush
This new local docudrama tells the stories of the Maori who were painted by Gottfried Lindauer in the late 1800s. The seven-part series, directed by Julian Arahanga (Songs From the Inside), documents three tupuna (ancestors) an episode and draws on the knowledge of their descendants to reveal "a very different history".
It also delves into the life of Lindauer (whose career overlapped with C.F. Goldie) from his birth in Eastern Europe to his arrival in New Zealand in 1874 and death at 87, in 1926.
The first episode deals with cannibalism, and later we find out about the wife who served up a lethal lesson to her straying husband, and the truth behind Lindauer's most famous portrait.
When: Tuesday, 8pm
Where: Maori TV
What: Portrait of an artist and his Maori subjects
Reality pick: Secret Millionaire USA
In this reality series, millionaires go undercover to work in communities in need, before revealing that, actually, they are loaded and start throwing their money around.
In the first episode we meet 27-year-old Amos Winbush III, who is the $200 million man thanks to the success of his technology firm. He is heading to New Orleans, where his own family was trapped during Hurricane Katrina, and where residents are still struggling to rebuild their city.
He will have to live on a meagre welfare allowance as he seeks out and helps people making a difference in the community.
In the second episode we meet artist Scott Jacobs who has built up a $50 million fortune by painting works for Harley Davidson.
When: Saturday, 8.30pm
Where: Prime
What: Moneybags muck in for charity
Drama pick: Labyrinth
Think The Da Vinci Code crossed with The Pillars of the Earth to describe this new miniseries based on Kate Mosse's novel Labyrinth. It merges the mystery of the Holy Grail with battles, family drama and politics in 12th century France, weaving them into a modern-day story of action and adventure.
When archaeologist Alice Tanner (Vanessa Kirby) inherits a house in France, she is haunted by dreams of a woman from the past. She stumbles on a cave and finds an ancient ring. Through it, she can uncover the secrets of the Holy Grail, through the story of Alas (Jessica Brown Findlay). With the help of mysterious historian Audric Baillard (John Hurt), Alice struggles to fit the pieces together, and protect Alas' legacy from those who are desperate for the information.
When: Sunday, 8.30pm
Where: SoHo
What: Hunting for the Holy Grail
Reality pick: Thelma's Gypsy Girls
Dressmaker Thelma Madine intrigued audiences as the woman behind the over-the-top wedding dresses in British reality show Big Fat Gypsy Weddings, which gave audiences a window into the traveller community.
In this offshoot show, Thelma (whose diamante-studded, lacy, giant, dramatic gowns are highly in demand with the gypsies) is giving something back to her clients by teaching a small group of them how to be seamstresses.
Many of these young girls don't finish school and become homemakers without the option of working, but Thelma is determined to teach them how to be dressmakers - and how to be employable young women. There will be tricky clients, tempers, catty behaviour and hilarity before any wedding dresses are completed.
When: Wednesday, 9.30pm
Where: TV One
What: Behind the gypsy wedding dresses
- TimeOut