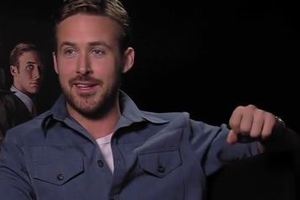 Sales have shot through the roof for the Dunedin designer who embarrassed Ryan Gosling by putting his face on a tea towel.
Designer Colleen Pugh, who runs the label "Dear Colleen", drew some embarrassing attention to herself when her tea towel - which featured three hand-drawn versions of Gosling and lines like, "Hey girl, I bet you'd rather be doing these dishes" - was presented to the Hollywood star in an interview last month.
Gosling was mortified, saying it was like "looking at the sun - I can't stare directly at it".
However, after media caught wind of the interview, Pugh noticed sales of the dishcloth started to rocket.
After selling 300-400 of the towels since June last year, customers ordered the same again in the week after the video went up.
Which was quite a handful for a one-woman shop.
"It was quite big sales, about 300 sales in two weeks and bulk of those were within the first four or five days ... I managed to clear the local stationary shops out," she said.
Most of the sales have come from Canada, the United States and Australia, with sites like the Huffington Post picking up on the story boosting sales offshore.
And while the attention might have caused Pugh to be "red-faced", she has no regrets.
"This happened and it's weird and crazy and makes me very happy to live in the internet age," Pugh wrote on her blog. http://dearcolleen.blogspot.co.nz/
"I kind of love the fact I'm painted as a crazy fan girl who spends her days drawing pictures of Ryan on home ware, I really wish that was true."
Pugh says the next dishcloth on her list will be a "celebration of marriage quality".
"It's such amazing news and such a land mark event for New Zealand."
- nzherald.co.nz