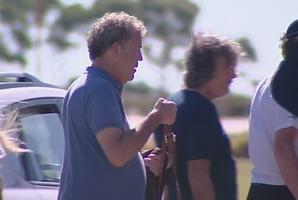 Having hit-TV show Top Gear film on Ninety Mile Beach will expose the region to more than 200 countries, publicity that would be worth millions of dollars, the Far North District Council says.
Top Gear will be shooting scenes for an upcoming programme on the beach today and tomorrow involving a car travelling at high speed.
Some of the Top Gear stars - James May, Jeremy Clarkson and Richard Hammond - are expected to be on the beach for the action, though it's unclear if any of them will be driving the vehicle.
Clarkson and May arrived in Auckland yesterday.
The district council granted consent for the filming without consulting all iwi along the beach, sparking some to complain, but all parties are now happy after some bridge-building by the council. Five iwi - Te Rarawa, Te Aupouri, Ngai Takoto, Ngati Kuri, and Ngati Kahu - have custodianship over the beach, but the council approached only Ngati Kuri for permission to grant the road closure outside the normal process.
As part of a pending Far North Treaty settlement, the beach will be governed by a board made up of Crown, iwi, conservation and council representatives.
"The BBC project has huge implications in terms of generating a positive image of New Zealand and the Far North," district council chief executive Dave Edmunds said.
"The programme involved goes to 212 countries and the positive publicity for the district is literally worth millions of dollars."
He admitted the council had made a "genuine mistake" in the way the BBC approach was handled.
"What's important is that we all have to work together rather than as individuals and make consultation easier so we can address opportunities like this quickly and professionally."
The trust board will be chaired initially by Te Rarawa leader Haami Piripi, who said he was happy the matter had been resolved after the "insult" of not consulting all iwi.
Members from all five iwi will be on the beach working with the BBC on issues such as traffic and crowd control and explaining the cultural significance of Te-Oneroa-a-Tohe.
For more articles from this region, go to Northern Advocate