Womad again brings to Taranaki some of the globe's most intriguing music. TimeOut profiles some of the festival's rising stars.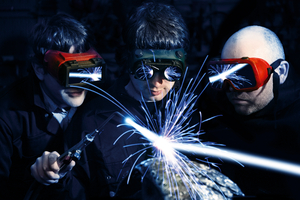 Speaking to Martin Green from Edinburgh, it's clear that Scottish alt-folk trio Lau are excited about coming to New Zealand to perform at Womad next weekend.
"I've never crossed the equator at all, so I'm extremely excited; our guitarist got as far as Australia once, but that's nothing in comparison, I'm sure," says the accordion and keyboard player.
"We're all like giddy school-boys," he laughs.
Green is in a jovial mood, which is understandable as Lau have much to be happy about. The group, who released their first album as recently as 2007, are receiving excellent reviews for their latest release Race The Loser, have many months of shows lined up everywhere from their home country to Japan, and have just picked up their fourth BBC Folk Award for Best Group.
The three (Green, with Kris Drever on guitar and vocals, and Aidan O'Rourke on the violin) all grew up in folky families, with their parents all folk musicians.
They'd all been performing for most of their lives when they met in Cambridge at the annual folk festival, playing with different bands, and by some stroke of luck they all moved to Edinburgh shortly after, which is where their collaboration started.
"We ended up playing in pubs and sessions together, and that progressed to playing round Aidan's kitchen table together, and then we started doing a few gigs," says Green. None of us expected that to become our fulltime occupation, but we're delighted that it has."
Their ambition when they first got together, of being able to write folk tunes, has also been key to their rise to the top of the folk scene and finding international recognition.
"When you first start out in a traditional music band, you have a sort of shared repertoire, usually, all these traditional tunes in common, but one thing that the three of us all wanted to do more of was play our own tunes. We'd all written a lot of our own material but we had no outlet for them. So that was exciting to us."
Clearly it's been exciting for British folk fans too. Lau have a reputation for stretching folk boundaries and exploring all sorts of musical territory with their wide-ranging collaborations.
They've created EPs with electronic producer Adem, with Scottish singer Karine Polwart, performed with Cream bassist Jack Bruce, written and performed an orchestral work with the Northern Sinfonia, created a film soundtrack, and this May they will perform with Sinead O'Connor at the Brighton Festival.
"When you're as small as a trio, having some other external impetus is great," Green says. "A band can sometimes be such a little bubble, and so having something or someone there that's new, it just ups everyone's energy a bit, stops you from getting into a rut.
"We've learned a lot. Every time you wander into one of these other disciplines, although you're kind of united as musicians, you'll find a different way of making music."
What they learn from these projects melts into their own work too. Race The Loser, produced by American Tucker Martine (Sufjan Stevens, REM), interweaves instrumentals and songs that tie electronic layers into their more traditional folk palette in an evocatively stormy Scottish fashion.
"Although he wasn't directly involved with it, I think the sound of the latest album owes a lot to the experience we had with this electronic producer Adem when we were collaborating," Green says. "He had this huge room, which was kind of like a musical sweet-shop, with all these different instruments everywhere, and his first instruction as a producer was, 'I don't want any of you to pick up instruments that you already know how to play. Go and find something new'."
They weren't afraid to push their boundaries a little and they still felt it was important to be able to deliver the songs live.
"We said, no guests, and we'll kind of limit ourselves to what is vaguely possible when we perform live. So if we couldn't do it with the six hands and six feet that we've got, then it's probably too much."
Green certainly gets to exercise all his limbs, commanding the accordion and an old Wurlitzer organ, which he has set up on an unusual angled stand (inspired by the Jacksons' keyboard). All three have large pedal boards to flesh out their sound.
Audiences can expect a broad but energetic set. "It's a rollercoaster ride through the ups and downs, some faster excitement, some slower, more reflective numbers, and then we just go completely bananas at the end. There's no room for complacency."
Who: Scottish folk band Lau
Where and when: Playing at Womad on March 15 and 16
-TimeOut