Tele-movie Killing Lincoln offers insights and more, writes Nick Grant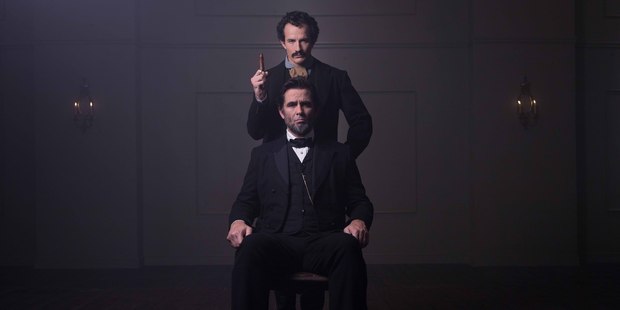 I have a broad sense of the sweep of the United States' past (genocide, imperialism, apple pie), but I can't claim to be an aficionado of American history in general or Abraham Lincoln's abruptly ended presidency in particular.
As a result, the main question on my mind when settling down to watch Killing Lincoln - a tele-movie playing on Sky's National Geographic channel tonight - was not what interpretation it would take but whether the high profile of Steven Spielberg's Lincoln, featuring Daniel Day-Lewis' Oscar winning performance, means the timing of the show's NZ debut is excellent or unfortunate.
It clearly helped when it screened in the US earlier this year, drawing 3.4 million viewers, a new record for the cable channel.
As well as a bump from the Academy Award attention Lincoln was getting at the time, those audience numbers were also presumably assisted by the fact Killing Lincoln is based on a best-selling book co-authored by Bill O'Reilly, a Fox News pundit with a large, rabidly loyal following.
I didn't realise the O'Reilly connection until the end credits. A good thing that - I think the guy's a bigoted, bloviating bully and had known I would have spent the programme's 90-minute running time trying to spot the right wing spin.
In the event I didn't notice any especially egregious pushing of political barrels, though that's apparently thanks to the script by Erik Jendresen (who wrote the fantastic Band of Brothers series) having left out some of the book's less credible content.
Whatever the case, I enjoyed Killing Lincoln. As the title suggests Lincoln isn't so much the show's subject as its target, with the focus very much on the before, during and aftermath of the assassination of America's 16th president. As such, the main historical character on display is actor and assassin John Wilkes Booth.
Although the programme falls short of its stated intention of presenting a more rounded portrait of a man generally "reduced to a two-dimensional scoundrel and a madman", Jesse Johnson does a decent job of Booth, assuming he had a habit of declaiming melodramatically off-stage as well as on.

Likewise, Billy Campbell makes for a perfectly fine screen Lincoln (tall, sombre and folksy), though admittedly he's no Day-Lewis.
The tele-movie is being touted as a "scripted drama" but that's a little misleading - given how much of the story is conveyed, both in person and via voiceover, by narrator Tom Hanks, the term "dramatised documentary" is closer to the mark.
Hanks is key to the show's success. He is one of the few people who can deliver overwritten nonsense and get away with it - such as "a man brought up on Shakespeare is brought to his knees by his own hubris", athough even Hanks starts to become annoying when required to constantly intone how much longer Lincoln has to live ("x days!", "y hours!", "z minutes!").
The programme's other strengths are its high production values and the way it teases out a number of interesting historical ironies and factoids.
I especially appreciate the way it manages to create a sense of how the events portrayed were a product of happenstance rather than fate.

Killing Lincoln screens tonight, 7.30pm, on Sky's National Geographic channel.